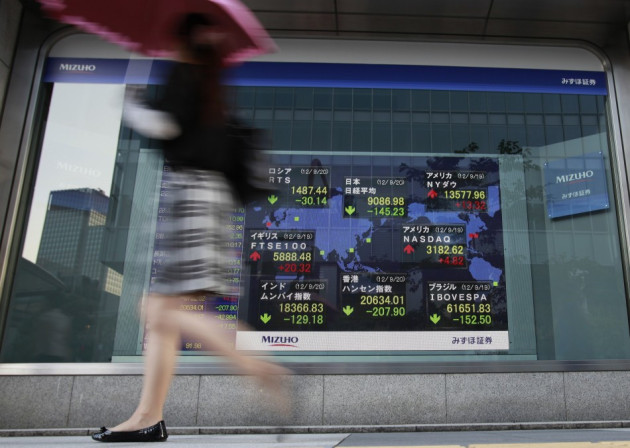 Asian markets have fallen as the effect of monetary easing announcements from central banks waned and investors looked to fresh stimulus to revive market sentiments.
Traders are also expected to be keeping a close watch on the eurozone bailout scheme, as reports suggest that a rescue plan could be revealed as soon as this week.
The Nikkei was down 0.65 percent at 3:57 GMT with KDDI Corp and Yahoo Japan Corp performing better than the rest, trading at a 2.61 and 2.56 percent high.
Hong Kong's Hang Seng was also down 0.65 percent. China Resources Power Holdings which rose 1.29 percent and China Merchants Holdings which was up 1.25 percent were the major gainers. China's Shanghai Composite Index fell 0.89 percent with major gainers Dashang Group Co Ltd rising 3.29 percent and China Space Sat Co Ltd up 3.14 percent.
The Korean Stock Index, KOSPI slid 0.71 percent. Major gainers were KwangHee Development-Oriented Self-Administered Real Estate Investment Trust Inc which climbed 14.90 percent and DI Corp which rose 14.86 percent.
"Stocks will move in a range today, as investors focus on global growth, with Europe's ongoing problems still in focus," Hiroichi Nishi, equity general manager at SMBC Nikko Securities, of the Japanese equities market told Reuters.
The previous week had seen markets impacted by the monetary aid announcements from the US Federal Reserve, the European Central Bank and the Bank of Japan.
This week investors are expected to be looking more at the implementation and the effects of these announcements.
"Now that the game of guessing what central banks from around the world are going to be doing with their endless pools of liquidity, we are now back to guessing which country is going to be bailed out and when," Neal Gilbert, market strategist at GFT, told Reuters.
The Chinese economy continues to be a major worry for Asian markets as well after reports over the weekend that a senior advisor to the People's Bank of China noted that there was no sign of revival in the country's financial condition and news that the Communist nation could continue to enforce strict property control rules.
The uncertainty over the economic impact of the territorial dispute with Japan in the light of the upcoming political power change in the country could also have an impact on the market.