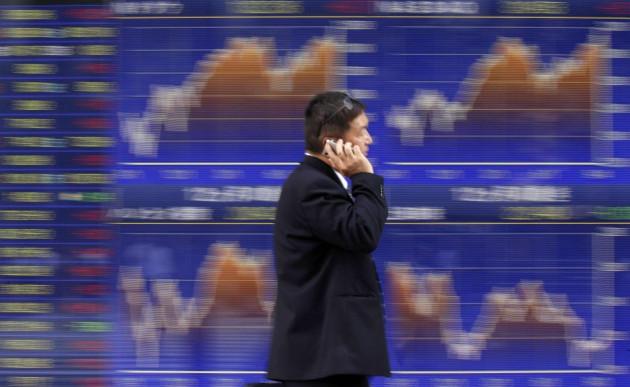 Asian shares are down as protests in Spain increased uncertainty over the eurozone crisis and governments' ability to tackle the financial crisis, while European Central Bank President Mario Draghi asked for more action to revive economies.
Japan's Nikkei 225 tumbled 1.71 percent or 155.82 points to 8935.72 at 4:07 GMT while Hong Kong's Hang Seng was down 0.83 percent or 172.74 points to 20525.94.
China's Shanghai Composite Index traded lower by 0.31 percent or 6.21 points to 2023.08. South Korea's KOSPI was down by 0.65 percent or 12.86 percent to 1,978.55.
Electronic components manufacturer Taiyo Yuden Co, down by 8.45 percent, and machinery parts maker NTN Corp which fell 6.18 percent, were the top losers in Tokyo. Honda Motor Co, whose stock ratings were downgraded by Deutsche Bank, also fell by 4.84 percent.
Toyota and Nissan which were reported to have cut their production in China following the territorial dispute were also down 1.73 percent and 2.05 percent respectively. Nissan's announcements of introducing more cars in India failed to cheer investors.
In Hong Kong the major losers were Aluminium Corporation of China which was down 3.40 percent and Li & Fung which lost 2.34 percent. Zhejian Johua Co and Navinfo Co fell the most in China by 3.86 percent and 3.67 percent respectively.
In South Korea building material manufacturer Byuksan Corporation was down the most by 11.11 percent, followed by Daihan Eunpakgy Co which was down 8.91 percent.
"After the euphoria and champagne-popping we witnessed this month after all the central bank big guns acted in unison, we look set to end the month and the quarter on a gloomier note," said Justin Harper, Market Strategist at IG Markets in Singapore.
ECB's Draghi defended the commission's policy measures at the Federation of German Industries (BDI) in Berlin adding that individual governments had to take their own measures to further revive their economies.
"The ECB's action can only be the bridge to the future. The project must be completed through decisive actions by governments both individually and collectively," he said.
Meanwhile, China's central bank announced that it will work on its policies to lessen the impact of the slowing global economy on the country while keeping track of the outcome of monetary easing steps in US and Europe.