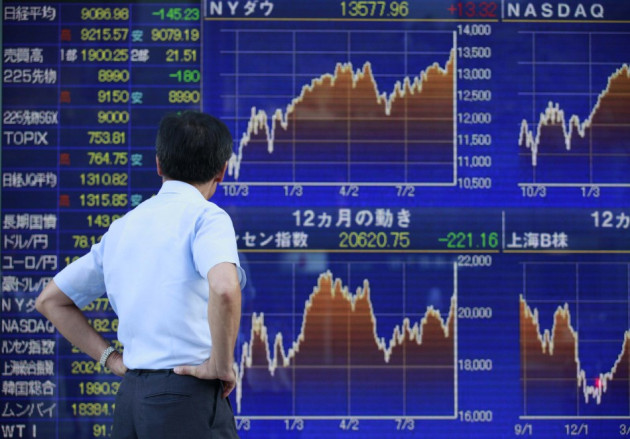 Asian markets mostly gained in the morning trade as the Nikkei rose to a seven-month high on the Yen's extended weak run against the Dollar on hopes of further monetary easing measures from Bank of Japan (BoJ).
The Nikkei average rose 0.76 percent or 72.37 points to 9541.21. Metal-related stocks gained the most. NTN Corp was up 10.91 percent while Pacific Metals gained 5.57 percent.
South Korea's KOSPI traded 0.31 percent or 6.03 points higher to 1953.07. Coal producer Keystone Global was up the most, gaining 14.99 percent, followed by construction contractor Shinhan Engineering & Construction, which rose 14.88 percent.
Chinese stocks eased after rebounding from a four-year low yesterday after the country's new regime promised to continue reforms to maintain economic stability. The Shanghai Composite Index slipped 0.17 percent or 3.50 points to 2028.41. Ningbo Powerway Alloy Material Company, which dropped 6.12 percent and Chengdu B-Ray Media Company which fell 4.79 percent were the major losers.
Hong Kong's Hang Seng Index was up 0.07 percent 15.98 points to 22286.89. Property stocks were up, China Resources Land gained 1.93 percent while Hang Lung Properties was up 1.54 percent.
Hopes of the pro-stimulus Liberal Democratic Party coming to power after the 16-December elections continued to boost sentiments in Japan. A poll by the Nikkei showed that LDP is on track to take office this time.
The party's leader Shinzo Abe is widely known for his demand for further monetary easing measures from the country's central bank. Abe had earlier indicated that inflation targets should be raised to boost Japan's lagging economy.
The Yen continued its recent losses against the greenback. The Dollar climbed to 82.55 Yen in the day, from 82.35 earlier. Japanese exporters remained upbeat on the local currency's drop.
The US 'fiscal cliff' woes persisted as political rhetoric continued. In the latest, President Barack Obama has said that a solution is possible in a week's time if the Republicans agreed to a compromise on the tax issue.
Official data from the country showed that orders to the factories saw a modest rise in October on the back of an increase in demand for machinery and equipment, adding to hopes of recovery in the world's largest economy.