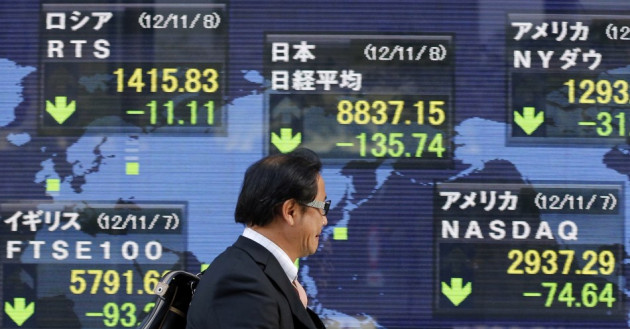 Most Asian markets edged lower in the morning as traders turn to profit-taking after the recent rally on the back of US "fiscal cliff" solution and the weak Yen.
Japanese benchmark Nikkei snapped a five-session rally to slip 0.28 percent or 29.76 points to 10658.35, while South Korea's KOSPI fell 0.59 percent or 11.81 points to 2000.13. Australia's S&P/ASX 200 eased 0.12 percent or 5.60 points to 4718.20.
But Chinese markets bucked the trend to trade higher. In Hong Kong, the Hang Seng was up 0.13 percent or 30.74 points to 23361.83 while the Shanghai Composite Index added 0.27 percent or 6.15 points to 2283.14.
Markets had kicked off 2013 on a rather positive note as the US lawmakers averted "fiscal cliff" crisis in time and further economic indicators from the country pointed to better outlook. Official data released in the previous week showed that the US labour market managed to hold steady despite budget concerns helping the Wall Street to close higher.
But the Federal Reserve minutes released earlier that raised concerns on the extent of quantitative easing programme dampened sentiments weighing down stock and metal markets. Gold futures had ended with a 1.5 percent drop before the weekend.
Across the Pacific, the Yen continued to remaining stubborn on the lower side on the pro-stimulus Liberal Democratic Party's (LDP) indications of further stimulus measures. The Japanese currency's recent weak run had helped Japanese stocks to climb to multi-month highs. The benchmark Nikkei had closed the week with the best single-day surge since March 2011.
Major Movers
Metal Stocks traded lower in Tokyo. Nisshin Steel Holdings slipped 3.35 percent while Kobe Steel and Pacific Metals were down 3.35 and 2.40 percent. Some of the major Japanese exporter too fell. Shares of Sharp Corp slipped 3.73 percent while those of Fujitsu were down 3.77 percent.
South Korean electronics firms fell as well. The heavyweight Samsung was down 1.31 percent while LG Electronics slipped 1.02 percent.
Property stocks traded higher in Hong Kong. China Overseas Land and Investment gained 3.24 percent while China Resources Land was up 2.77 percent. Sun Hung Kai Properties added 2.53 percent.