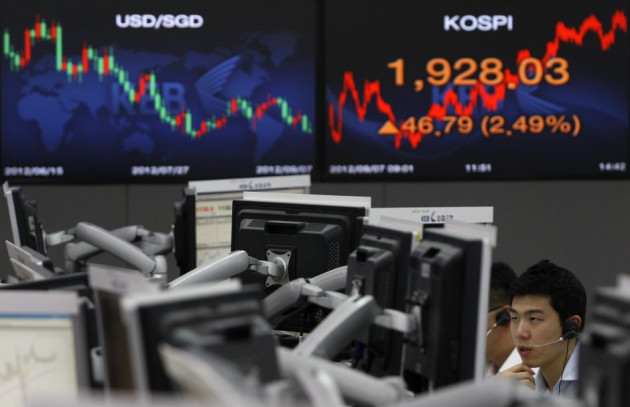 Asian markets have ended in the green as the yen's weak run against the dollar propelled Japanese stocks up and US lawmakers indicated that a solution to the "fiscal cliff" was nigh.
Japan's Nikkei average ended 1.43 percent or 129.04 points higher to 9153.20 while the KOSPI was up 0.93 percent or 17.27 points to1878.10.
China's Shanghai Composite index gained 0.11 percent or 2.26 points to 2016.98. Hong Kong's Hang Seng advanced 0.49 percent or 103.05 points to 21262.06.
India's Bombay Stock Exchange Sensex traded 0.76 percent or 140.17 points lower to 18331.20 at 09:24 GMT.
Japanese stocks continued to rally as traders remained optimistic that the December 16 elections will result in the current opposition Liberal Democratic Party (LDP) coming to power. The LDP is of the opinion that the Bank of Japan should introduce further monetary easing measures to boost the economy.
A number of recent economic indicators, which suggest that the country's economy may be in recession, have increased the pressure on the BoJ to introduce more stimulus measures. The central bank officials are meeting for a policy review early this week.
The yen, which had dropped in the previous week following reports of the snap elections, continued to remain weak, encouraging investors to buy exporter shares.
Away from Japan, President Barack Obama and the congressional leaders indicated that a solution to the fiscal crisis may be in sight. Speculations that the proposed austerity measures could push the world's largest economy into recession had impacted global markets in the previous week.
However, sentiments in China were low as the country's new leaders failed to provide any indication of further economic reforms. Markets gained moderately after official data showed that property prices in 35 of 70 Chinese cities increased in October, compared to 31 in the previous month.
Major Movers
Electronic firms extended their gains in Tokyo. Camera-makers Nikon and Canon were up 4.68 and 4.45 percent. Shares of Ricoh gained 3.70 percent while those of Panasonic rose 2.92 percent.
Japanese metal firms gained. Kobe Steel was up 4.17 percent while Pacific Metals and Nippon Steel & Sumitomo Metal gained 3.77 and 3.37 percent.
Metal-related firms ended higher in Seoul as well. Yeong Hwa Metal gained 14.93 percent while Young Heung Iron & Steel was up 14.84 percent.
In Hong Kong, Cosco Pacific Holdings and Want Want China Holdings were the better performers, gaining 5.92 and 3.65 percent respectively.
Shares of Ping An Insurance Group Company of China ended 1.93 percent lower following reports that HSBC may sell its shares in the insurer. HSBC Holdings gained 0.95 percent.
Guangxi Fenglin Wood Industry Group and Shanghai Guangdian Electric Group were the top gainers in China, ending 10.02 and 9.89 percent higher.
In India, Tata Power and Tata Consultancy Services traded lowest, down 2.52 and 1.71 percent.