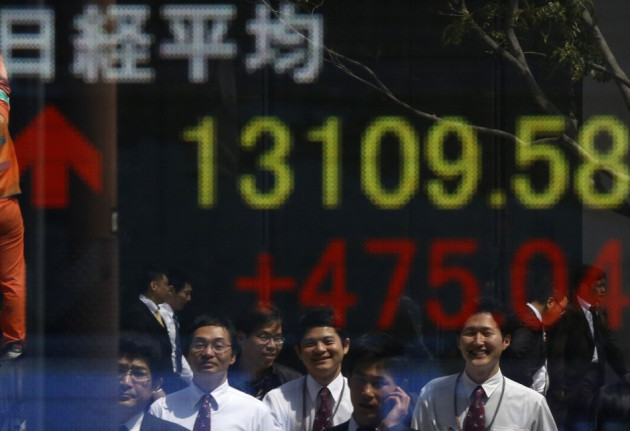 Japan's Nikkei was an exception with corporate earnings and the yen's gain disappointing investors.
The Nikkei stock average lost 1.2% in three trading days in the week, from 30 April to 2 May, to close at 13,694. The markets were closed on Monday and Friday for public holidays.
Nearly 52% of the 61 Nikkei companies, which have reported quarterly results as of 1 May, either beat or met market expectations, according to Thomson Reuters StarMine.
The latest earnings releases indicated that the exporters had not reaped big benefits from the depreciation of the yen since late last year
Other Asian markets generally gained from promising data from the US and the European Union. The US Federal Reserve recommitted to its stimulus program in a policy meeting and the number of Americans filing new jobless benefits claims declined sharply last week to its lowest level since the early days of global economic recession.
Meanwhile, the European Central Bank has cut its interest rates by 25 basis points to 0.5%, as widely expected by analysts. Further, the ECB president Mario Draghi said that the euro area's monetary policy is "extraordinarily accommodative" and the central bank will act further if needed.
Australia's S&P/ASX 200 closed at 5,130, a gain of 0.6% during the week. South Korea's Kospi rose 1.3% for the week to close at 1,965.7.
Closed for most of the week, Shanghai advanced 1.4% and ended at 2,205.5 on Friday. The Hang Seng index inched up 0.1% to 22,690.
The Week Ahead
The US non-farm payrolls data released overnight showed that the country added 165,000 jobs in April and the jobless rate declined to 7.5% from 7.6%. Following the jobs report, the dollar rose more than 1% against the Japanese yen on Friday.
"The drop in the unemployment rate alongside a healthy increase in non-farm payrolls will have soothed fears of another spring slowdown," said economists at Capital Economics.
The US is due to release its March consumer credit data and April Treasury monthly budget statement in the coming week.
China will release its trade data and consumer price inflation data, while Hong Kong will release its first-quarter gross domestic product details. Australia and Korea are due to hold interest rate meetings during the week.