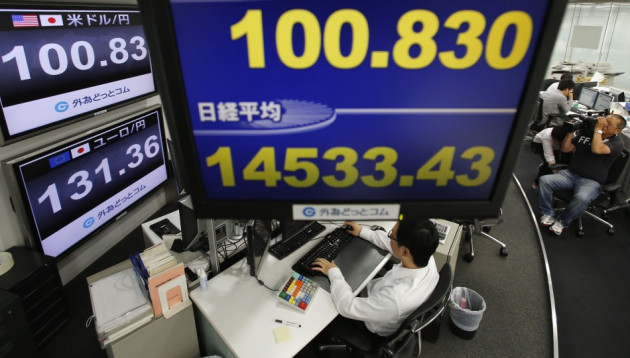 Asian markets showed mixed performance on a day when Japanese stocks rallied to a five and a half year high. Japanese stocks soared after the US dollar breached the symbolic 100-yen mark, while Asian stocks suffered as global equities dropped overnight.
Japan's Nikkei average jumped 2.75% or 390.47 points to 14,581 while South Korea's Kospi declined 1.23% or 24.36 points to 1,955.09. In Australia, the S&P/ASX 200 index gained 0.39% or 20.20 points to 5,218.60.
China's Shanghai composite index gained 0.6% or 1.34 points to 2,234.31 while Hong Kong's Hang Seng declined 0.20% or 46.19 points to 23,165.29.
Japanese exporters made significant gains on expectations that a weaker yen would boost their competitive advantage overseas and increase their repatriated profits.
The US dollar got a boost after weekly data showed that initial jobless claims in the US fell to a five-year low. This followed the previous week's better-than-expected monthly nonfarm payrolls report for April.
The resultant hectic dollar buying was fuelled by sentiments that the US economy was getting back on track.
On Wall Street, stocks dropped from their record highs while Europe's pan-European FTSEurofirst closed flat, nearer to its five-year high.
In Japan, Trend Micro jumped 15.5% after it reported a rise in quarterly profits. Nikon jumped 14.2% on the back of a better-than-expected earnings forecast.
Car maker Mazda Motor gained 8.1%, Nissan Motor 4.1%, Mitsubishi Motors 6.1% and Subaru parent Fuji Heavy Industries 10.4%. Suzuki Motor rose 5.7% following a record profit for the financial year ended March 31. Sony zoomed 1.2% after reporting its first annual profit in five years.
In Sydney, miners BHP Billiton, Rio Tinto and Fortescue Metals Group all gained 1.3%.
In Hong Kong, China Resources Power Holdings dived 8.7% in heavy trading after the utility said it planned to acquire piped-gas distributor China Resources Gas Group through a stock offer. China Resources Gas declined 0.9%.
Refiners China Petroleum & Chemical (Sinopec) rose 0.4% after China announced it would increase motor fuel prices. Sinopec's Shanghai-listed shares too rose 0.3%.