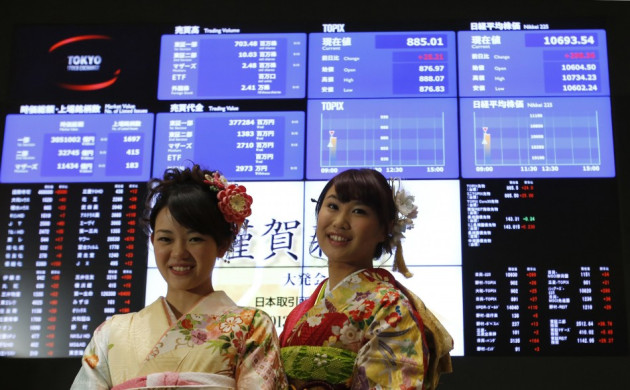 Asian stock markets except Nikkei fell in the morning trade taking cues from the weakness of the US stocks overnight as some of the Federal Reserve officials expressed concerns over the continuation of its asset purchasing programme.
MSCI broadest index of the Asia-Pacific shares outside Japan fell 0.4 percent after hitting the highest since August 2011. South Korea's KOSPI opened 0.1 percent down while Taiwan fell 0.3 percent. Hong Kong's Hang Seng Index lost 0.5 percent.
China's Shanghai Composite gained 0.8 percent tracking a number of data that showed growth in the manufacturing and service sectors, indicating a revival of the world's second-biggest economy.
Australian shares also slipped, 0.5 percent, following a sharp rally for the past two days which lifted the shares to its highest levels in over 19 months.
However, Nikkei jumped 2.6 percent higher repeating the year-end rally when it opened after extended holidays. Japanese markets were closed for New Year's holidays from 31 December to 3 January.
Japanese traders were overjoyed with the continued weakness of the Yen and the Dollar hit ¥87.78, its highest since July 2010.
Meanwhile, minutes from the Federal Reserve's December policy meeting showed several members of the Federal Open Market Committee were increasingly concerned about the potential risk of continuation of the bond buying programme, the Reuters reported.
There were fears that the Fed's asset purchase programme may cease by the end of the year that triggered a fresh wave of uncertainty in the investment climate and the US stocks ended lower overnight.
Earlier, US lawmakers were able to reach a deal to avoid a "fiscal cliff" that was set to trigger automatic spending cuts and tax rises by the start of the year. As the deal only covered tax rises, the White House and the Republicans have to again engage in tough talks on increasing the debt ceiling and spending cuts.