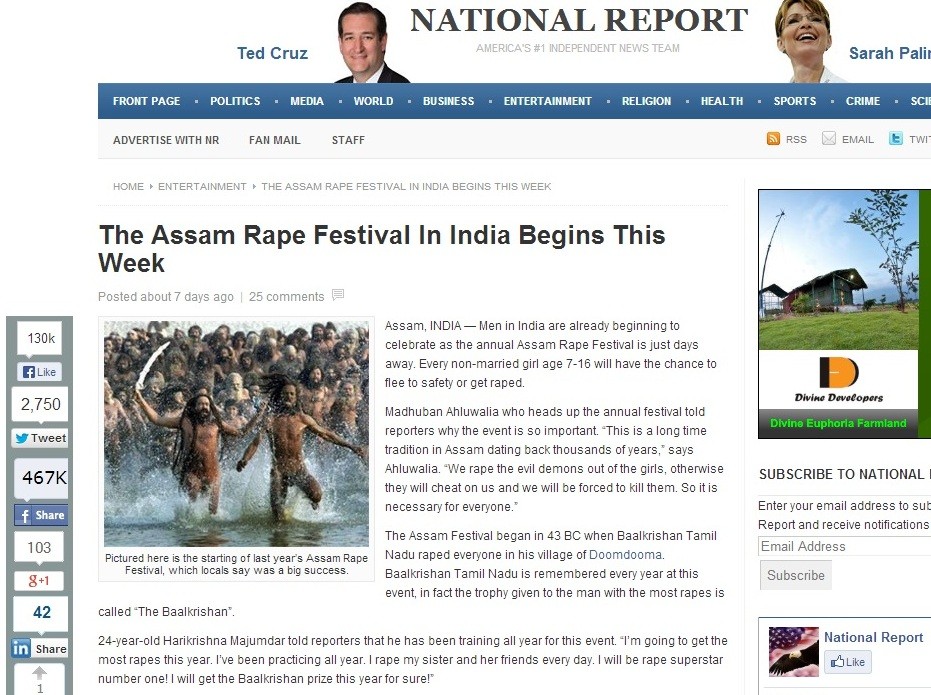 A satirical article that "reported" that the Assam Rape Festival, a non-existent event, was about to begin in the northeastern Indian state is being widely shared on social media. In some cases, it is shared by people who seemingly have no clue that the story is fictitious.
The article, written by Paul Horner, was originally published on NationalReport.net, a humor and news parody website.
The distasteful article has left people of Assam state in India seething in anger. As per a report in Hindustan Times, Assam's director general of police Jayanto Narayan Choudhury has ordered a probe in Guwahati after the write-up was posted on Facebook, drawing angry response from netizens.
"India is always raping something. Makes me sick!" commented a user on the post, who believed the report was true.
"God have mercy on these innocent women... what kind of tradition is this. All you have to know is that God is watching you and you are going to pay for your sins," wrote another angry reader.
Some Facebook users agreed that it was meant to be a satire but took objection to naming a state. "It's satire. But u can't name a state or a country while writing a satirical piece," wrote Facebook user Tonmoy Borkotoky.
Giving the link to the 'news story', the National Report posted on Facebook, "We would recommend foreign travelers avoid #India this week during the #AssamRapeFestival! Don't say we didn't warn you!" The Facebook page also claims itself to be one of the 'most accurate news' on the web.
From National Report's (now-deleted) disclaimer page: "National Report is a news and political satire web publication, which may or may not use real names, often in semi-real or mostly fictitious ways. All news articles contained within National Report are fiction, and presumably fake news. Any resemblance to the truth is purely coincidental."
The posting includes a link to GiveIndia.org, a Mumbai-based non-profit, which connects donors to around 200 charities working in India on issues including child welfare and women's empowerment. Jai Bhujwala, head of online and retail giving at Give India, said the charity was in no way connected to the website or the piece, and had requested the author to remove it from the Internet, The Wall Street Journal reported.
"We support women's causes but this is not the right way that we would like to present it," Bhujwala told India Real Time.
Following the gang rape of a young woman in New Delhi just under a year ago, India has been gripped by a bout of national guilt over women's safety. The victim had died of her injuries after being raped by five men and a juvenile on a moving bus in December.