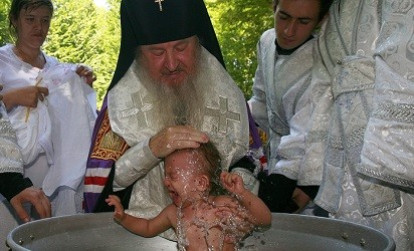 A couple in Russia are facing jail after they took their seriously injured child to a church for an emergency baptism rather than take him to a hospital.
The two-month old baby boy sustained a severe head injury after the family were involved in a car accident in St Petersburg.
Instead of taking to hospital for treatment, his parents took him to the church because they were worried "he would be denied the kingdom of Heaven", Russian media reported.
The infant was already dead by the time they handed him over to the priest.
The unnamed parents, both in their 40s, were being investigated for "failure to assist a person in danger," RIA Novosti said.
They were also been criticised by church spokesman.
"This is superstition, not religion," a St Petersburg Orthodox Church spokesman said. "They should have gone to the hospital - it's only human."
An investigating official added: "A psychiatric ward is the best temple for such people."
The Russian Orthodox Church is believed to be the world's largest Eastern Orthodox churches with 150 million worshippers worldwide.
Some 83% of the Russian population describe themselves as religious, up from 24% in 1991.