A document leaked to UK-based advocacy group Bahrain Watch has revealed that the Gulf kingdom is seeking large quantities of teargas as it continues to fight the pro-democracy uprising that started in 2011.
The tender document shows that Bahrain's Ministry of the Interior requested a shipment for the provision of 1.6m teargas projectiles, 90,000 teargas grenades and 145,000 stun grenades,
As John Lubbock remarked on a Vice article, that would leave the tiny island state with more of the weapons than its 1.3 million citizens.
"The document came from a source who has connections with the Ministry of the Interior although we can't say any more about the source," John Horne of Bahrain Watch told IBTimes UK.
"Bahrain police have used teargas excessively, indiscriminately and lethally over the past 2 and 1/2 years, since the start of the uprising. It has been targeted not just protesters but civilian populations living in villages associated with the opposition as a form of collective punishment," Horne said.
Horne said that teargas taken from Bahrain was tested by a professor of chemistry at Trinity College Dublin. The study concluded "that the CS agent is being used as a lethal chemical weapon against the civilian population in Bahrain".
According to Physicians for Human Rights, 39 deaths in Bahrain, including old people and people with disabilities, have been attributed to teargas.
Activists have long campaigned against security forces' misuse of teargas which has turned from a "non-lethal" weapon to a common cause of injury and even death.
The teargas shipment has not been made, according to Bahrain Watch, which has nonetheless identified three of the firms that supply Bahrain.
In a press release, it named German-South African company Rheinmetall Denel Munitions and two South Korean firms - DaeKwang Chemical Company and Kore C.N.O. Tech.
"We are in possession of information relating to the company that we believe will be completing the Bahrain government's tender, however we are not in a position to make this public at this time," said Horne.
A senior executive at the DaeKwang Chemical named Kim Jong-bae said his company had exported around 1m units of teargas to Bahrain between 2011 and 2012.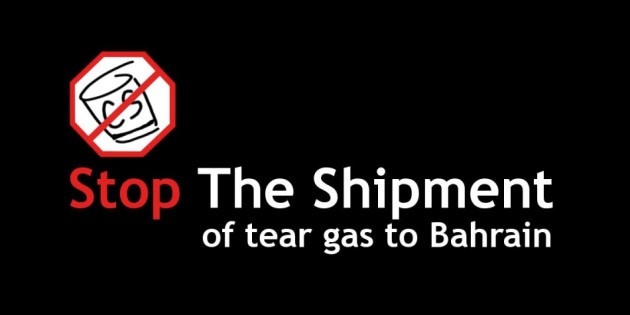 Along with other human rights groups, Bahrain Watch has launched a campaign entitled "Stop the shipment" which aims at putting pressure on Bahrain's teargas suppliers via email, Twitter (#StopTheShipment) and Facebook.
Somed 23,600 emails have been sent through the website, according to Horne.
"No government should authorise the transfer of teargas to Bahrain until authorities there can show that it won't be used to threaten people's lives," said Joe Stork, deputy Middle East director at Human Rights Watch.
"Bahrain needs to show it will respect international standards for using teargas before any government should clear the way for sending more teargas to its government."
Brian Dooley of Human Rights First said: "Teargas is being used in an indiscriminate, inappropriate and lethal way. The US should publicly oppose all sales of tearas to Bahrain while it is being abused by the police."