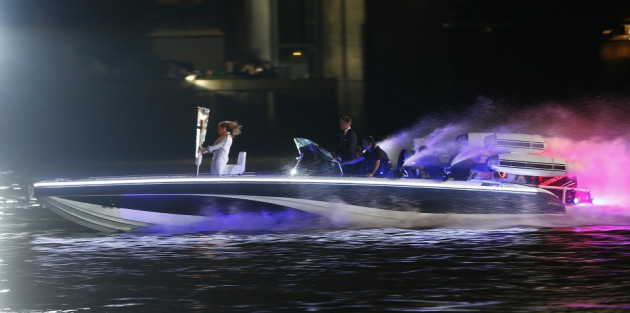 The flashy speedboat David Beckham piloted up the River Thames in London during the Olympic Games opening ceremony has failed to sell at auction.
Millions of people watched on TV as Beckham appeared to power up the river toward the Olympic Park in Stratford carrying the Olympic torch in July.
But not a single buyer could be found for the vessel at an auction, organised by prestigious auctioneers Bonhams in leafy Weybridge on Monday.
Equipped with four rockets and a special seat for the torchbearer, the boat missed its £250,000 reserve price by £70,000.
In contrast, a buyer snapped up the old meat van driven by Corporal Jones in classic comedy Dad's Army for double its predicted price in the same auction.
Beckham's boat becomes the latest piece of Olympic paraphernalia consigned to the scrap heap. Last week, props used during the elaborate London 2012 ceremonies were pictued lying abandoned in a yard near the Olympic venue in Stratford.
"It was a very busy sale but the item was fairly highly priced and there was insufficient interest on the day," said a spokesman for Bonhams.
"It may sell in a post-sale deal."