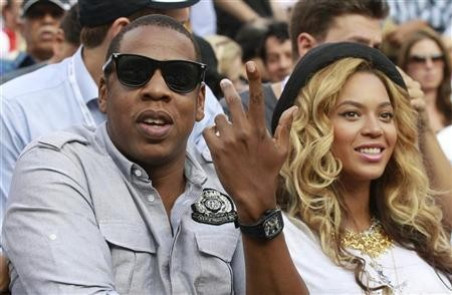 Superstar Beyoncé and husband Jay Z have lost their bid to trademark their daughter's unusual name.
The music power couple, who welcomed their daughter Blue Ivy Carter in January, filed papers with the US Patent and Trademark Office to own and protect the rights to her name shortly after her birth.
According to MyFoxBoston.com, the 31-year-old songstress had been planning to launch her own children's fashion line under the name Blue Ivy.
Family law attorney Vikki Ziegler told MTV said: "Seeking the trademark forestalls competitors from using the child's name and or third parties from attempting to sell the baby's name back to the couple.
"They are likely trying to protect what they rightfully own or created by trademarking Blue Ivy's name."
The pair's request was rejected by a judge who stated that as a party planning firm in Boston, Massachusetts, Blue Ivy Events, have been using the moniker since 2009, it would not be possible to trademark it.
While the couple cannot protect her name, with the help of their good friend President Obama they can hope that she is brought up right. The Forever Young rapper has been receiving parenting advice from the president.
bama recently told US radio station Z107.9: "We talk about the same things I talk about with all my friends. We talk about the kids.
"I made sure that Jay-Z was helping Beyoncé out [with the baby] and not leaving it all to mum and the mother-in-law."