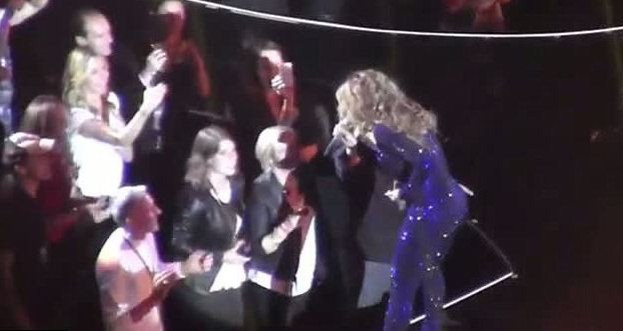 Princess Eugenie went "bright-red" after she was asked by Beyonce Knowles to sing along with her during Mrs. Carter Show held at London's O2 arena.
Beyonce was performing her hit track Irreplaceable when she approached the 23-year-old royal, who was in the front row with James Middleton and his rumored new girlfriend, Donna Air. However, the daughter of Prince Andrew and Sarah Ferguson, was unable to repeat the lines.
"It was hilarious – Eugenie was on the front row with Kate Middleton's brother, James, and his new girlfriend, Donna Air, plus designers Matthew Williamson and Patrick Cox," a source told The Mirror,
"She was really excitable and filming the whole thing on her iPhone like any other fan. Beyonce clearly didn't recognise her so when it came to Irreplaceable, and the part where she picks on an audience member to join in with her, she simply chose the first woman she could reach. When Eugenie, who had gone bright-red, ducked down, Beyonce was forced to quickly fill in the missing words and find a new, willing victim. All Eugenie's friends were teasing her about her stage fright for hours afterwards," the insider added.
Meanwhile, the Halo singer had reportedly demanded a huge dressing room for the duration of her stay.
"The new dressing rooms are superb - it's like you've stepped into a luxury apartment. But she surprised everyone by turning them down, going for the larger ones that are used by sports teams when they play at the 02," an insider revealed, "They are much bigger though, and she was given free rein to refurbish them to her own taste. They're also in a quieter part of the backstage area, which gives her a better atmosphere to get focused for her shows."