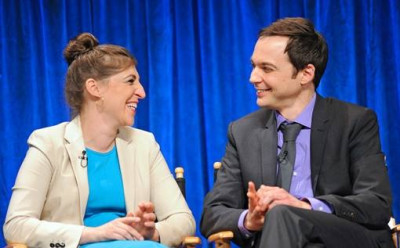 Sheldon kissed his girlfriend Amy for the first time on the fifteenth episode of the seventh season of the hit American sitcom The Big Bang Theory.
In the episode titled The Locomotive Manipulation, Amy plans a weekend getaway to Napa Valley on board a vintage train for her, Sheldon, Howard and Bernadette.
However, Amy became upset when Sheldon paid more attention to his new friend than her during the dinner.
"It's Valentine's Day. We're supposed to be having a romantic weekend," she says.
Sheldon replied: "Oh really, because I remember you saying this trip was going to be something that we could both enjoy. Did you mean that? Or were you just trying to trick me?"
"Fine, it's true. I deserve romance, and I didn't know how else to make it happen," Amy replies.
Sheldon continued: "Well if you want romance, let's have romance. Oh, look there's wine. Mmm... grape juice that burns. Now, let's gaze into each other's eyes. You blinked. I win. Let's see, what's next? Oh, kissing's romantic."
He then kisses her after which Amy says: "That was nice."
Fans took to Twitter to share their excitement on the couple's kiss.
Madison Williams: "Just freaked out about Sheldon and Amy like they're real people. I need a life. #BigBangTheory #Shamy"
Clau: "i just spitted on my screen sheldon kissed amy like he actually grabbed her and connected his lips to hers this isn't real"
Liz Pullen: "#BBT Can't believe Sheldon gave Amy a REAL kiss...never thought that day would happen."
Emma Lee: "@BigBang_CBS freaking the eff out!!! Can't breathe. Its a vday miracle!!! Sheldon & Amy sitting in a tree, K-I-S-S-I-N-G!!!! #BBT"