Bolshoi Ballet dancer Pavel Dmitrichenko denied he was behind an acid attack which left a colleague almost blind and exposed behind-the-scenes rifts at the iconic Russian institution.
The denial was made at the start of the trial of Dmitrichenko, 29, and two co-defendants accused of throwing acid in to the face of the Bolshoi's former artistic director, Sergei Filin, in January.
The Bolshoi Ballet's reputation was tarnished by the scandal which made headlines around the world. Dmitrichenko faces 12 years in jail if convicted of grievous bodily harm.
Appearing inside a cage at a Moscow court, the dancer said: "I do not admit that I am guilty."
At a previous hearing, he admitted wanting to teach Filin, 42, a lesson over suspicions he had about corruption inside the Bolshoi ballet. But Dmitrichenko said he was shocked to learn acid was used against his high-ranking colleague.
Filin was brutally attacked outside his home in Moscow as he returned from work at the company. An assailant called his name and then hurled acid in his face, which left him writhing on the ground in agony and crying for help.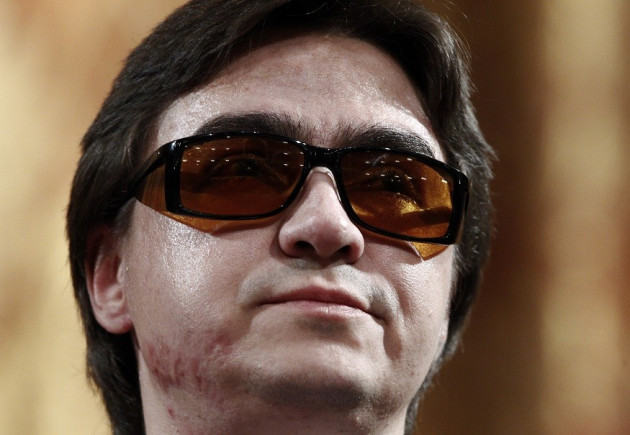 After the assault, Filin had several operations in a bid to save his sight and last month he was able to attend the opening of the latest season.
Also on trial were the alleged attacker Yuri Zarutsky, and the man who police say drove the getaway car, Andrei Lipatov.
Dmitrichenko has been behind bars since March and appeared in court looking fatigued.
His lawyer said: "I hope the court will be able to distance itself from the public resonance of this case and deliver a well-grounded and just verdict."
Speaking as the trial got underway the Bolshoi ballet issued a statement describing the case as "tragic."
Spokesmwoman Katerina Novikova said: "A crime was committed. It must be solved If Pavel's guilt is proven, he should be punished. In any case for us this situation is tragic - it involves our friends and colleagues."