LA Robbery: Manager Strapped to 'Bomb' Forced to Rob Her Own Bank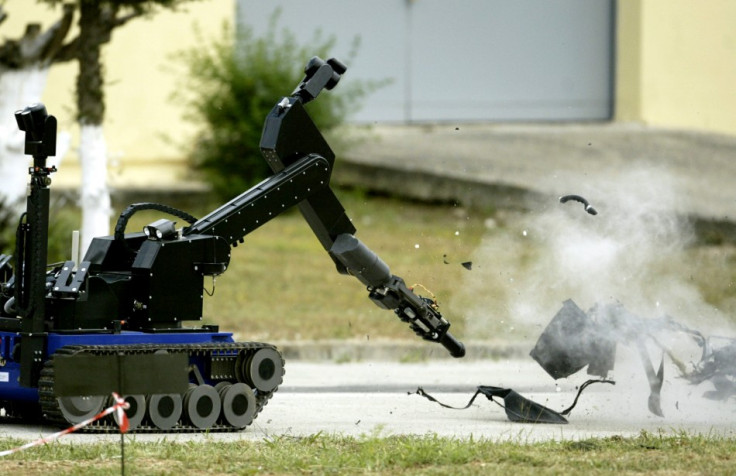 A bank manager was kidnapped by two gunmen, strapped with what she was told was a bomb and forced to rob her own bank in Los Angeles.
The woman, whose name has not been revealed, filled a bag with an undisclosed amount of money before tossing it outside to the robbers, wearing ski masks, who promptly fled.
Police and bomb disposal experts arrived on the scene shortly afterwards. The supposed bomb was detonated by a robotic vehicle in a controlled explosion, but was found not to be explosive.
No one was injured in the heist, and no arrests have yet been made in connection with it. The victim was unable to provide a detailed description of her kidnappers.
It remains unclear whether the woman knew her kidnappers, and police are still trying to establish whether any CCTV surveillance cameras captured the event.
Mad morning
It is reported that the kidnappers snatched their victim just outside her house, as she was leaving home for work in the morning.
The two robbers fastened what appeared to be a pipe bomb to her body and told her to drive to her Bank of America branch in east Los Angeles, fill a bag with cash and take the money back to them.
"She was clearly told: 'This is a bomb'," Capt Mike Parker of the LA County Sheriff's Department, said.
Around 8:30 am - just before the bank's opening hour - she walked into the building, while the robbers waited outside the bank, beyond the reach of the CCTV cameras.
"While she was inside the bank, there were other employees present. She explained to them what was happening. She took the money out of the bank and threw it out the door to the bank robbers," said Capt Parker.
The kidnappers fled in a car, which police believe may have been a white Kia.
During the detonation, which took place on the road outside the bank, several buildings were evacuated.
Police officials did not disclose the exact sum that was stolen but said it was a "significant amount of cash".
© Copyright IBTimes 2023. All rights reserved.