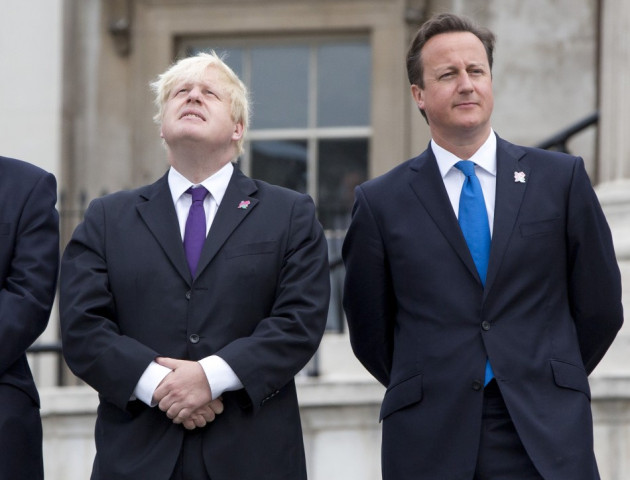 New polling suggests Boris Johnson could do better than David Cameron as Conservative party leader at the next general election.
A YouGov poll found Johnson could help win seats in London in 2015, while under Cameron the Tories would lose key marginals in the capital city.
The findings hand a boost to the London Mayor during his high-profile investment trip to China , while giving Cameron - who remains stuck at home - yet another reason to be wary of the ambitious Johnson.
Research indicates that under Cameron the Tories face a net loss of six seats in the capital city at the next general election. This would tip the odds further away from the PM and towards Ed Miliband's Labour Party.
But when voters were asked their intentions if Johnson were leader of the Conservatives, then the results indicated the Tories would gain two MPs - an overall difference of seven points.
President of YouGov Peter Kellner said: "Under this Boris scenario, the Conservatives could have a chance of governing alone.
"Under Cameron the Conservatives would almost certainly lose seats in London at an election held now. Under Boris they could well end up with more seats than they currently hold. But Boris is not normal and Londoners love him.
"No political leader since Churchill can match his popularity after five years in office. Fully 64 per cent of Londoners tell YouGov he is doing well. They include Labour and Liberal Democrat supporters.
"This is why Conservative support goes up seven points when Londoners are asked how they would vote if Boris were the party's national leader."
Johnson regularly polls better than his leader, including last year when he basked in the reflected glory of the London Olympics. This fuelled speculation of an imminent bid for power - via a Tory who would step down from their seat to give Johnson an easy route in to parliament. Yet this failed to happen.
Recent polling has indicated voters in the capital city would take none too kindly to Johnson cutting short his tenure in City Hall and pursuing a Westminster return. More than half did not want a part-time mayor and Johnson would risk jepodising his advantage in London by splitting his time as Mayor between 2015 and 2016.