Bournemouth's Jermain Defoe still struggling with death of Bradley Lowery: 'It's been difficult'
Striker revealed On This Morning that he still thinks of the six-year-old that lost his cancer battle everyday.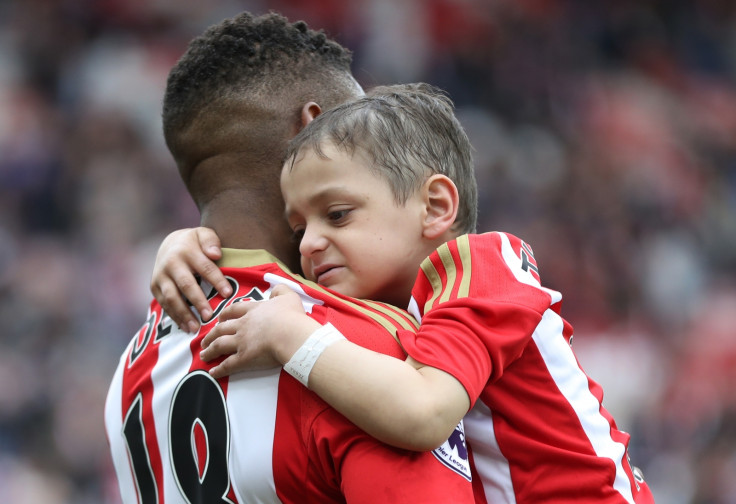 Jermain Defoe has revealed that he is still struggling to come to terms with the death of Bradley Lowery, the pint-sized football mascot whose fight against a rare form of cancer moved the world.
The Bournemouth striker appeared on This Morning via live feed on Wednesday ( 13 September), two months after the six-year-old lost his battle with the disease. He spoke to hosts Phil Schofield about how he had been personally impacted, while the youngster's parents Gemma and Carl joined them in the studio.
Bradley was diagnosed with neuroblastoma at 18 months old. He beat cancer but it returned in July 2016. Last Christmas, his parents said the illness was terminal.
He was a mascot for Sunderland several times last season and regularly accompanied Defoe onto the football field for Sunderland and England matches. Opening up about their close bond, the Premier League footballer said he still thinks about his "best friend" every day.
"He touched my life in a big way to be honest. It was difficult as there were times I'd see Brads before the game and he'd walk out with me and I could see he was in pain," Defoe said as he fought to keep composure.
"I didn't want to leave him but I had to play the game. His fight, enthusiasm and strength went such a long way."
Defoe was amongst the thousand of mourners who lined the streets of Bradley's home village of Blackhall Colliery for a befitting send-off. For the funeral, he wore an England shirt with No.6 and Lowery's name on the back.
"Everyday before every game. Towards the end of my time at Sunderland he used to walk out with me because he loved his football and that's when he came alive. He was always with me walking out," the 34-year-old sportsman explained.
"There's times now before games I'm so used to Brads being beside me giving me that bit of strength. It's been difficult. Every day I wake up and think about Brads, it's still fresh."
In the studio, his parents praised their son's bravery and revealed they want their son's legacy to live on through the Bradley Lowery Foundation, set up to support the families of other sick children.
"Bradley was always very caring and wanted to look after other people regardless if he was poorly or not," Gemma said. "I just wanted to take that forward and build his legacy and help other people."
© Copyright IBTimes 2023. All rights reserved.