Gavin Rees believes that Ricky Burns should avoid facing Adrien Broner after the American produced a brutal performance to inflict just a second loss on the brave Welshman.
Broner took his time to get into the contest in Atlantic City but once he found his sharpness it was clear that his hand speed and natural power would simply be too much for Rees to overcome.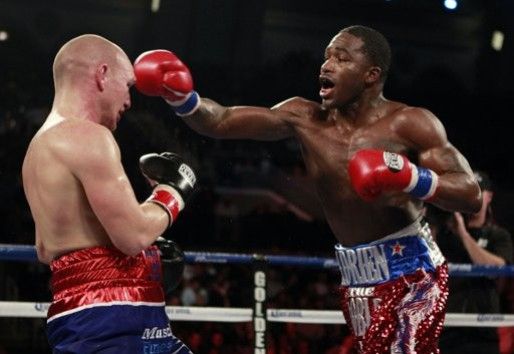 A devastating uppercut, which would have seen most lightweights out for the count, sent Rees to the canvas in the fourth round before he was forced to take a knee in the next after a left-hook to the body.
The contest was eventually stopped with just seconds remaining in the fifth round when Rees' trainer Gary Lockett decided his man had taken too much punishment and threw in the towel.
After the fight all attention turned to whether Broner would next step in the ring with another Brit in WBO champion Burns. The Scot has the chance to win the IBF title next month when he takes on Miguel Vasquez and has claimed he next wants to face the brash American.
However, Rees believes that Broner would simply be too good and has advised Burns not to share a ring with the fighter nicknamed 'The Problem'.
"To be honest, I can't see Ricky getting close to beating him," Rees told ESPN. "It pains me to say this, but Broner's too good. His hands are so fast that Ricky won't even see the punches coming. He also hits extremely hard. He has phenomenal power for a lightweight.
"Broner is far and away the best I've been in with. He really is something. No-one has ever treated me like that in the ring. I've sparred with Ricky. Sorry, I can't see him handling this boy."
Broner has previously accused Burns of avoiding him after the Scot turned down the chance to face him earlier this year. However, the Coatbridge based fighter has always maintained that he turned down that opportunity as he would have taken it at short notice and not had a time for a full training camp.