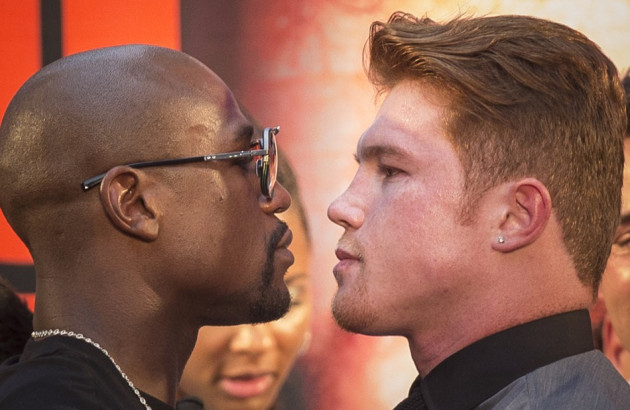 On 14 September at the MGM Grand in Las Vegas, Floyd Mayweather will step into the ring for the 45th time in a glittering career that has seen him remain undefeated for the best part of two decades.
At 36 years of age he remains in peak physical condition, often training as many as three times a day as he sharpens the skills that have led to him being recognised as the finest pound-for-pound boxer in the world, and one of the greatest to have ever stepped foot inside the squared circle.
The latest challenger hoping to be the man that can finally bring an end to Mayweather's supreme reign is Mexican sensation Saul 'Canelo' Alvarez. The 22 year old is also yet to taste defeat and already has an incredible 42 wins to his name despite his tender age.
Alvarez is the naturally bigger man; he has youth on his side, is considerably stronger than Mayweather and possesses tremendous skills inside the ring. Yet there is a feeling that the man known simply as 'Money' will once again triumph in the bright lights of Las Vegas.
It is by far the biggest fight of the year and is set to break all records in terms of viewing figures and money generated. Everyone has a say, so we decided to see just who an array of current, and former, world champions were predicting to win.
Andre Ward, current WBA super-middleweight champion and undefeated fighter
"I think that you've got to go with Floyd Mayweather. Even though Canelo has a lot of fights, there's just one guy that jumps out that is a top-level fighter, and that's Austin Trout. Baldomir was older. No disrespect to Shane Mosley, but Shane was a little older, even though Shane was still dangerous.
"I just don't see anything other than Canelo landing a lucky punch that gives him a shot to win. And even in landing a lucky punch, that doesn't mean that Floyd Mayweather is just going to fold and crumble and be knocked out. Floyd has gotten hit in fights, and he's taken those hits and he's come back and he fights. I just don't see it. If I'm wrong, it won't be the first time that I'm wrong, and it may not be the last. But I just don't see it."
Oscar De La Hoya, former six weight world champion and head of Golden Boy Promotions
"People have hope and people strongly feel that Mayweather is going to get beat. I know why the fight is catching fire. You have a young guy in Saul who is like a seasoned veteran.
"He knows what he's doing. He is a fighter that has a game plan and he is in the best shape of his life."
Ricky Hatton, former two weight world champion who lost to Mayweather in 2007
"Alvarez is younger, bigger and stronger but Floyd will have the speed and movement to keep out of the way. He will be Floyd's toughest fight, because Floyd is getting on a bit. Having said that, he lives the life and looks after his body.
"He's also a master of defence so he hasn't been in too many wars, and there aren't too many miles on the clock, despite his age. Floyd will make Alvarez miss and any boxer will tell you that there's nothing that tires you out more than hitting fresh air continually."
George Foreman, former two-time world heavyweight champion and legend of the sport
"This is Canelo's fight to lose. Mayweather has speed, Canelo has speed; Canelo has power, Mayweather has power if you follow him. Canelo has youth, Mayweather has none. Experience is good; punching power is better. Split decision for Canelo.
Mike Tyson, youngest fighter to ever win the world heavyweight title
"It's going to be tough. This guy [Alvarez] is gonna hit him, but it's just difficult to bet against Floyd if you're really honest with yourself. It's really difficult to bet against him because he's been so superior over all of the fighters during the duration of his career.
Freddie Roach, boxing trainer of Mayweather's great rival Manny Pacquiao
"(Alvarez) is a pretty good puncher and a tough guy. But does he have a chance at beating Mayweather? I don't think so."