March 8, 1971 will always be remembered as the day that Muhammad Ali and Joe Frazier delivered the 'Fight of the Century'. 42 years may have passed since that scintillating night at Madison Square Gardens but it remains one of the most absorbing and compelling bouts in the history of the sport.
This was a fight that transcended boxing. Ali had become a symbol of the anti-establishment movement after refusing to be inducted to the US Army. Threatened with five years in prison he refused to step forward and was immediately stripped of his heavyweight title and had his boxing license suspended. It would be three years until he was once again allowed to lace up the gloves in a professional bout.
During this forced hiatus, while Ali was becoming a hero for those supporting the Civil Rights movement, Frazier was destroying everyone in his path. A devastating puncher who possessed a thunderous left hook, Smokin' Joe had won all 26 of his contests, dispatching 23 of those men before the final bell.
In 1970 he had asked President Nixon to give Ali his license back, saying: "I want to beat him up for you." This made Frazier a popular champion amongst conservative American's and by the time a fight with Ali was announced, there was a genuine split across the nation.
Ali branded the champion an 'Uncle Tom', saying that he worked for 'the enemy'. Frazier simply wanted to prove that he was the undisputed champion and that he deserved to be recognised as the best heavyweight in the world.
The controversy surrounding the fight delivered an electric atmosphere. Countless celebrities were in attendance and it felt as though the entire nation had an opinion on who would emerge victorious. This was a time when titles were not diluted and the heavyweight champion was considered a global superstar.
While there was interest from even the casual observers of the sport, boxing purists were purring over the chance to witness two unbeaten fighters share the ring. There were so many questions waiting to be answered. Had Ali faded after his forced absence? Could Frazier land his trademark left-hook and deliver a knockout? Would Ali still be able to dance and seemingly land at will?
By the time the first bell sounded the atmosphere inside Madison Square Gardens was at fever pitch. Reporting on the fight from ringside was the Daily Mirror's Peter Wilson who perfectly surmises the absorbing 15 rounds that followed.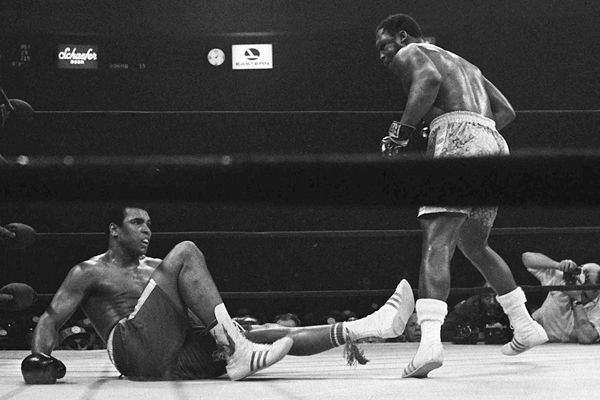 "The first bell went. Clay landed a hard right, then a good left to the head, but Frazier didn't look disturbed. A right and left again from Clay and then he tried to wrestle his man down.
He was warned for holding the back of Frazier's neck. He was caught with some of Frazier's body shots. Frazier banged to the body and the kidneys and already Clay had slowed down and was caught by a left hook.
Clay jabbed well but was again caught to the body. Frazier scored with his left hooks to the head, Clay with his jabs.
It was just Clay's round and it had been a hell of a good first round for a world heavyweight championship. The second round was Clay's far more clearly, and at the bell he waved derisively at Frazier's back. But now it was Smokin' Joe's turn.
Clay stooped so low that they were face to face. "The Lip" started jeering, Mercante warned him to stop talking. The round was fairly even until, late on, Frazier suddenly slammed in a body punch, a terrible, splintering, eviscerating body punch.
I was, perhaps, some ten yards from the apron of the ring, but this punch threw me back in my chair as though I had been skewered through my guts. A terrible blow. Clay was open-mouthed and very tired in the fifth. But again he was allowed to hold outrageously on to the ropes.
The fifth held some bitter medicine for Clay. All at once Frazier dropped his hands, stuck out his chin, and indicated: "Go on, hit me." Then, grinning wolfishly, he drove his enemy back and actually out-talked Clay.
Gradually, the fight was slipping away from Clay. The sixth, in which he had predicted his own victory, evaporated with his taps being nullified by Frazier's oaken cudgelling.
In the eighth, Clay lolled on the ropes until Frazier finally plucked him off. He often made Frazier look foolish - but never hurt him. In the ninth, it looked as though they were boxing for a return. Clay was outjabbing his man. Frazier was laughing, but bleeding from the nose.
The tenth was negative, except for an incredible, incredulous moment, when I thought Frazier was going to quit. He turned his back on Clay and the referee and it was only later that it turned out that the referee, in breaking the two men, had inadvertently hit Frazier in the eye.
From then on it was, in my view, almost all Frazier. Both of them were patting rather than punching. But when they decided to cut loose, Clay sagged and reeled round the ring, with Frazier savaging him violently.
The doctor examined Clay between the eleventh and twelfth and although he waved them on it was clear that someone had given Clay a whiff of smelling salts. I doubt if Clay has ever had to suffer more that he did in the thirteenth. He took a savage beating to the head and body and his face was swelling.
All through, Clay had sneered, gesticulated and generally derided his shorter, blacker, more awkward opponent. Now he was fighting, twisting and feverishly turning. Clay, full of lumps and bumps, but scoring well in long-range flashes, won the fourteenth.
In the fifteenth, you noticed a lump like an egg on Frazier's temple. But like a thunderbolt, a terrific left hook sent Clay sprawling. It was followed by a left and right to Clay's jaw. He was quite gone. Frazier thrashed him, leaving Clay dazed and helpless and hopeless."
Ali had been floored for just the third time in his career and had suffered his first loss. Some questioned whether he would ever be the same. Before his problems with the US government, Ali had seemed untouchable. His ability to float around the ring, his handspeed and underestimated power made him seem virtually untouchable.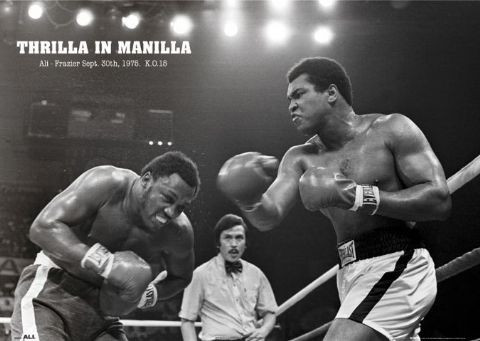 Pundits felt his ego would be shattered by the loss. Thankfully they were wrong. The Louisville Lip would continue to shock the world as he regained the heavyweight title against the seemingly indestructible George Foreman.
He would twice more share a ring with Frazier, gaining revenge in New York with an unanimous decision and then winning the 'Thrilla in Manilla' after an epic war which saw Frazier retired on his stall at the end of the 14<sup>th round. Ali would later claim that this was the closest to dying he had ever been.
This was a glorious time for the heavyweight division and reminiscing on this fight makes us wonder about the current heavyweight landscape. The Klitschko brothers rule with an iron fist but what we would give for a fighter in the same calibre of Ali or Frazier.
However, the final word must go to the fighters.
Frazier on Ali: "The Butterfly and me have been through some ups and downs and there have been lots of emotions, many of them bad. But I have forgiven him. I had to. You cannot hold out for ever. There were bruises in my heart because of the words he used. I spent years dreaming about him and wanting to hurt him. But you have got to throw that stick out of the window. Do not forget that we needed each other, to produce some of the greatest fights of all time."
Ali, after the Thrilla in Manilla: "I always bring out the best in men I fight, but Joe Frazier, I'll tell the world right now, brings out the best in me. I'm gonna tell ya, that's one helluva man, and God bless him."