Seth Mitchell was never destined to become the great American heavyweight hope. Throughout his childhood he dreamed of being a basketball player, before seemingly finding his true calling when taking up American Football as a freshman at High School.
He was merely a casual observer of boxing; more a fan of Pro Football Hall of Famer Iron Mike Ditka than of Iron Mike, the man the boxing world learned to love and hate in equal measure. Yet, it was a cruel twist of fate that changed his life forever as he was forced to give up on a game in which he excelled, and instead explore new options that would suit his considerable frame.
At 6' 2" and weighting as much as 270 pounds, Mitchell was awarded the honour of having his high school football number retired before being handed a full athletic scholarship to attend Michigan State University. It was here that he edged closer to realising his dream of playing in the National Football League, only for fate to intervene in the form of a career-ending injury.
"Ever since my sophomore year I imagined myself with shoulder pads and helmet on, playing in the NFL. So for that to be taken away from me was extremely tough," reflects Mitchell, whose softly spoken manner is far removed from so many American heavyweights. "I never really got injured, it was just a sharp pain in the knee which happened to be the cartilage and I just couldn't get over it. After seven surgeries it became no fun for me and I realised I couldn't keep doing this."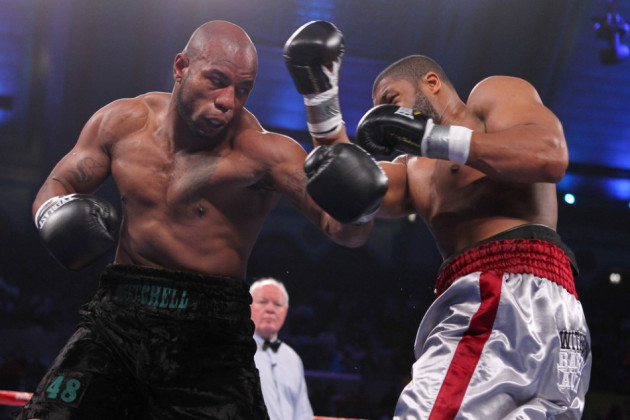 Many men just out of their teenage years would struggle to cope with the news that a potentially lucrative career had been cruelly halted, yet Mitchell showed a great inner resolve that would stand him in good stead in his future endeavours.
He continued: "It was a tough time but I felt I dealt with it well and handled it with maturity. I was at peace when I was told I'd have to walk away from the sport. When I decided to hang up the cleats it wasn't a tough decision even though I had dreamed about it my whole life. My motto is that everything happens for a reason and fortunately I was able to move on."
This mantra would soon come to fruition as Mitchell discovered boxing. Having never stepped foot in a boxing gym prior to 2006, his competitive edge soon returned when he witnessed a former American Football ally enter the ring for his professional boxing debut. Tom Zbikowski had played football for Notre Dame, but had switched to boxing, and went on to win all four of his professional bouts.
The seed had been planted and Mitchell immediately turned his attention to a sport in which his considerable size and strength would hand him a distinct advantage. Yet, there is so much more to boxing than the aforementioned attributes, hence the reason they call it the sweet science. Fighters often train from childhood to develop the skills and instincts needed to become a top level fighter; Mitchell would put on gloves for the first time in his mid-twenties.
"Even after seeing Zbikowski and beginning to train I never thought that I would pursue it professionally," Mitchell admits. "I decided to turn amateur but I realised that I would struggle to make the Olympic team and the decision was made pretty quickly to give it a go as a pro."
This has proven to be a wise decision. Despite having just 10 amateur bouts, winning nine by knockout and losing just one, Mitchell has taken to the professional ranks with relative ease and was awarded a major honour when he was signed by the legendary Oscar de la Hoya after just one professional fight.
The owner of Golden Boy Promotions clearly saw something in the somewhat crude, but clearly powerful fighter from Maryland. Mitchell admits that it is the only surprise of a career which has stunned even the most fervent of supporters.
"Coming into the fight game I didn't realise how big that deal was," explains Mitchell, who hopes to be the flag bearer of the heavyweight division at Golden boy Promotions which also represents unbeaten American Deontay Wilder. "For them to sign a 25-year-old, unproven heavyweight, who only had 10 amateur fights and came from football to boxing, was pretty unbelievable. It still shocks me to think about it."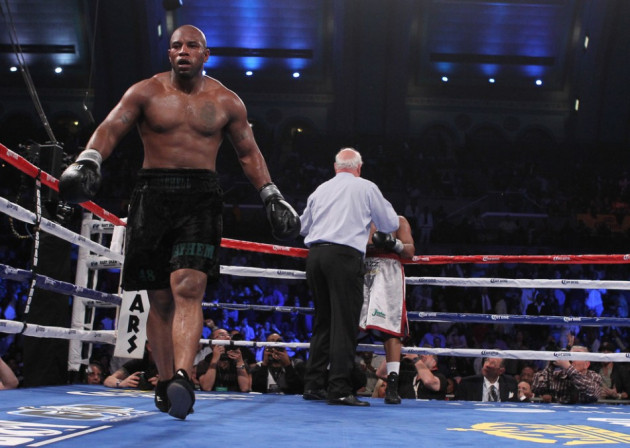 Being promoted by a multiple weight world champion and true legend of the game has certainly had its advantages for Mitchell. He has already had a taste of the limelight by appearing on the undercard of some of the biggest fights in recent years. British fans will have had the opportunity to see him on two occasions as he twice featured on the undercard of Amir Khan.
His appetite for grandest stage of all has been tantalisingly whetted, and he is confident he now has the necessary skills to make a real challenge on the world heavyweight scene.
"You try not to let the moment overwhelm you and thus far I think I have dealt with that well. But to get that type of exposure, that is what it is all about," Mitchell explains, before revealing he is still improving steadily with each fight. "I think I am getting better and I still have a long way to go. I know I can fight as I have good speed, power as well as that killer instinct and I can punch with both hands. But anyone can lose a fight so I try to stay humble and disciplined.
"I feel I am part of a new generation of fighters coming through and at some point one of us is going to have to step up and dethrone the Klitschkos."
Ukrainian brothers Vitali and Wladimir currently dominate the heavyweight landscape, while the vast majority of talent appears to be coming out of Europe. So does Mitchell see himself coming over to Europe in order to make a mark on the division?
"Anything is possible," he admits. "Everything has to be right and it has to be a huge, mega fight but I have my eye on a lot of those fighters. There are a lot of good guys like Tyson Fury, David Price and even Dereck Chisora is a formidable opponent. I would absolutely love to make those fights."
Boasting an impressive record of 26 fights with no losses and 19 wins by knockout, Mitchell is viewed as a genuine threat to the Klitschko monopoly. Britain's own former world heavyweight champion David Haye is also hoping to challenge the giant duo, but it seems he has inadvertently helped the American improve.
Mitchell admitted: "I am a boxing fanatic now. I love picking up tips from fighters in all weight divisions and I actually picked up something from watching David Haye the other night. I am going to implement that to my arsenal but I won't disclose what it was."
With America crying out for a new heavyweight to emulate the achievements of a succession of world class fighters, it seems Mitchell has all the qualities needed to take up the mantle. Fortunately his broad shoulders should be big enough to bear the burden.
Seth Mitchell can be contacted on his Twitter account @SethMayhem48