Tyson Fury has continued his verbal assault on the rest of the heavyweight division by claiming that he is the man that can bring the sport back to the masses.
Ahead of his highly-anticipated bout with Steven Cunningham in New York on Saturday, Fury has continued to label the division boring and claims that he will be the 'saviour of the heavyweight division'.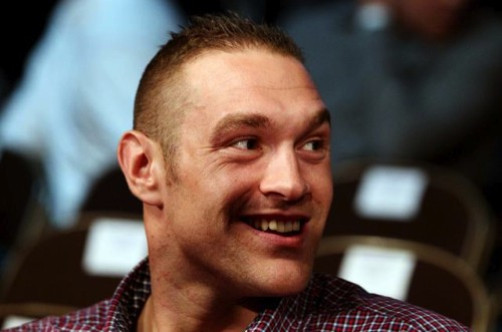 The 24-year-old has never been shy of making his feelings known and is certainly one of the most outspoken boxers in the division. However, he has thus far back up his claims and is closing in on a world title opportunity.
With an impressive record of 20-0, Fury could soon gain an opportunity at the IBF title which is currently held by Wladimir Klitschko and he made it clear that he feels he will be the future of the heavyweight division.
"I aim to bring the glory days back to heavyweight boxing. It's been dull for a while," Fury told boxingscene.com. "You've got these European fighters that are just all jab and grab and they're just not exciting.
"People are sick of being bored to death for 12 rounds, and there's no seizing the opportunity anywhere in it. It's like 'If I can knock a guy out in two rounds, I'll take him ten just in case he throws a hook back.' People are sick of that.
"There's nobody who's come, grabbed the division by the balls, and kicked it on its head. And that's where I come in. I'm not all talk; you get these British hype jobs and these European fighters and they can't really fight.
"I like to be real, I don't want to con anybody and I can fight. I can fight southpaw, orthodox, in close, outwards, upside down - whatever you want to do. I throw combinations, I punch hard, and I'm an exciting fighter. So here we are, the saviour of the heavyweight division."
The Brit also took aim at the Klitschko brothers by declaring that they will have no long lasting legacy in the sport unlike some of the greats of the division.
"I know the Klitschkos have been successful for the past ten years and they speak 25 different languages and they're in great shape, but who wants to be a Klitschko?" added Fury.
"People don't grow up thinking 'Yeah, I want to be like a Klitschko.' I'm named after Mike Tyson. My name is Tyson, so he must have influenced my father. I don't know many people who are named Wladimir because of Wladimir or Vitali because of Vitali.
"Because you don't grow up wanting to be like them. But you did grow up wanting to be Mike Tyson, Evander Holyfield, and all these other guys."