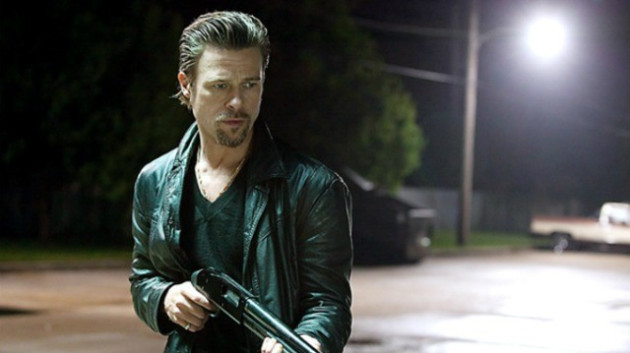 Brad Pitt looks set to unleash his mean side in new mob thriller Killing Them Softly, as seen in the newly released trailer.
The film is based on the novel Cogan's Trade, written by George V Higgins and revolves around a botched raid on a mob card game.
Pitt plays Jackie Cogan, a mob enforcer and pointman for an assassin who is brought in to investigate the heist and track down the perpetrators.
Judging by the source material, the dark tone of the trailer and the ominous use of Johnny Cash singing When the Man Comes Around, Killing Them Softly looks set to be a classic hard-nosed crime tale.
Joining Pitt on the cast are The Sopranos' James Gandolfini, Goodfella's star Ray Liotta, and Richard Jenkins. Andrew Dominik directed the film, making this his second collaboration with Pitt since the meditative The Assassination of Jesse James by the Coward Robert Ford.
Although the film's trailer and promotional material appears to focus on Pitt as the central protagonist, the story and early reviews suggest a lot of focus is also given to the two low-level thugs who attack the card game, played by Scoot McNairy, of Monsters, and Ben Mendelsohn, of Animal Kingdom.
The film's Cannes screening met with mixed but generally positive reviews. It will be released on 21 September.
See the trailer below: