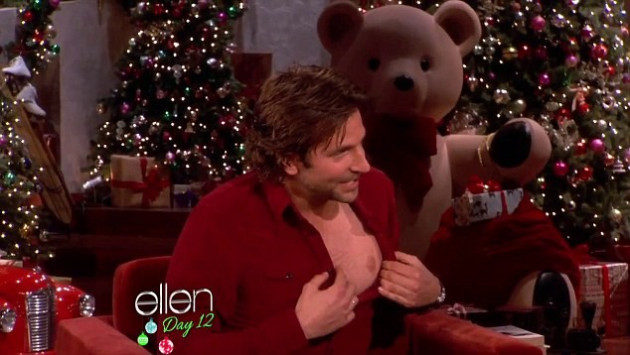 He is one of the world's sexiest men, but Bradley Cooper managed to turn off the audience of the Ellen DeGeneres show after he revealed that he had five nipples.
During his appearance on the US chat show to promote his new film Silver Linings Playbook, the actor showed off not just his third nipple, but his fourth and fifth as well.
Ahead of the big reveal, the Hangover star warned viewers that he had a "disgusting" secret.
The 37-year-old star told a confused DeGeneres: "Remember when you asked me last time if I could take my shirt off?
"I didn't think I could reveal this much about myself ... I'll show you why.
While unbuttoning his shirt he announced: "I have a third nipple - is that not weird? It's disgusting."
But the Hollywood hunk, who is dating actress Zoe Saldana, did not stop there. He went on to confess to having two additional nipples lurking under his clothes.
Rolling up his sleeves, he displayed the fourth nipple which was on his right forearm. "It's so sick," he said.
He rounded up his show-and-tell by by pulling up his trouser leg and revealing nipple number five.
It later emerged that it that the extra nipples were fake.
What a prankster.