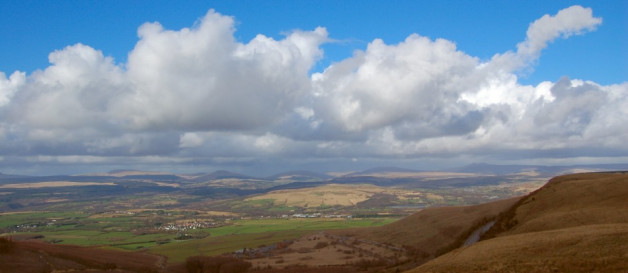 Two soldiers who died on a training exercise in the Brecon Beacons on the hottest day of the year were taking part in a gruelling selection process for the SAS, it has been reported.
Sources say that the men, who were Territorial Army members, were running wearing body armour and carrying ammunition and equipment weighing 45kg whilst temperatures soared to 30C (86F) in the mountains in Powys, south Wales on Saturday.
In total six men, aged 19 to 25, collapsed near Pen y Fal mountain, which at 2,900 feet is the highest in the area.
They were flown to Merthyr Tydfil hospital by RAF Sea King helicopter and a civilian air ambulance.
One soldier remains in hospital in a serious condition.
The Ministry of Defence is working with Dyfed Powys Police to investigate the incident. It is understood that they are focussing on the nature of the training exercise and the high temperatures on the day.
An army source told the Mail: "The troops are desperate to prove they are up to joining the SAS and push themselves harder and harder. They are encouraged to by the instructors who are unforgiving.
"There is going to be a huge inquiry into what happened because on the face of it these lads look like they've been marched to death.
"More should be done to ensure these needless tragedies don't occur."
An MoD spokesperson said: "The two servicemen's next of kin have been informed. More information will be released in due course but it would be inappropriate to comment further at this stage."
Though it did not comment on whether the soldiers were taking part in an SAS selection process, the MoD did confirm that they were members of the TA.
Owing to their remoteness and the gruelling nature of the terrain, the Brecon Beacons have long been regarded as ideal territory for putting soldiers through their paces.
The Infantry Battle School is based there and the mountains are used for exercises by both regular and elite units.
The army today confirmed that exercises in the area would continue despite the high temperatures.
Kirsty Williams, leader of the Welsh Liberal Democrats and AM for Brecon and Radnorshire, told the BBC it was a "meltingly hot" day in the area on Saturday.
She added: "It's very very said to think that people that were serving with our armed forces have lost their lives in this way", and hoped that "any lessons that can be learned from this tragedy will be learned".
Matthew Dorrance, Mayor of Brecon, said: "In one way we've been blessed with the weather but for people working in this heat, they're tough conditions.
"It's incredibly sad for the friends and family of the people who have lost their lives.
"We're proud of our links with the military in the town and our thoughts are with the person who is injured."