Liverpool manager Brendan Rodgers is planning to punish striker Luis Suarez after the Uruguayan's admission that he dived attempting to win a penalty against Stoke City in October.
Suarez was labelled a 'cheat' by Jim Boyce, the British FIFA representative and Potters boss Tony Pulis demanded The Football Association ban the striker after he appeared to go down under no contact in an attempt to win a penalty kick.
Rodgers later defended Suarez claiming he will always be a target for criticism but on Wednesday had reportedly admitted to Fox Sports Argentina that he dived against Stoke in order to win a penalty earlier this season.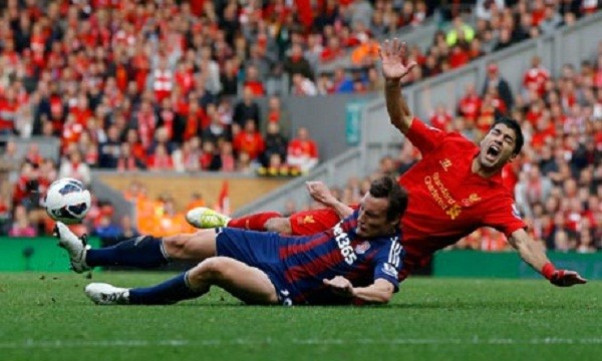 "I think it's wrong," Rodgers said. "It's unacceptable. I've spoken to Luis and it will be dealt with internally," he said.
"Diving is not something we advocate. Our ethics are correct.
"He has been totally understanding on where I am coming from as manager of the club. What was said was wrong, he takes that and we move on."
The incident at Stoke is one of a series of episodes involving the much criticised Liverpool forward, who handled the ball prior to scoring against Mansfield in the FA Cup third round 10 days ago.
While admitting he had dived against Stoke, Liverpool's top scorer believes he is targeted by the British media.
"I don't listen all the nonsense some people say about me," he said. "I'm accused of cheating here. People say I throw myself all the time inside the box.
"Let's see: they said that when we played against Stoke, for instance, and in that case they were right. I invented a foul because we were drawing 0-0 against Stoke and I wanted to win.
"Sometimes on the pitch I say to myself: 'What have I done?' But the name of Suarez sells papers.
"The other day, for instance, I touched the ball with my hand accidentally, and I was criticised because I kissed my hand.
"The media make up a lot of things about me because they want to sell papers. I say to the media: You should talk more about football, not about other stuff."