Britain's biggest family seen on Channel 4's annual documentary 20 Kids and Counting took a trip to Florida, and viewers have been left wondering how they could afford such a lavish vacation.
Radford family patriarch Sue and Noel Radford, from Morecambe, Lancashire, announced in the documentary that aired on Wednesday (3 January) that they would be taking their 20 children, whose ages range from 3 months to 28 years, to Disney World in Florida to celebrate their 25 years of marriage.
They presented their children with a Mickey Mouse balloon, and they all squealed with delight after learning about the Disney vacation. But many viewers were baffled as to how they could afford it.
The Radford family owns and operates Radford's Pie Company, a bakery in Heysham, established in 1999. Sue and Noel get £170 per week in child benefit and survive on Noel's salary which is less than £50,000.
One user wrote on Twitter, "Did half the country just shout at their TV like I just did, how the hell can they afford Florida!?" Another said, "Bloody Hell. I work hard and can just afford Blackpool, his business must be booming to afford Florida."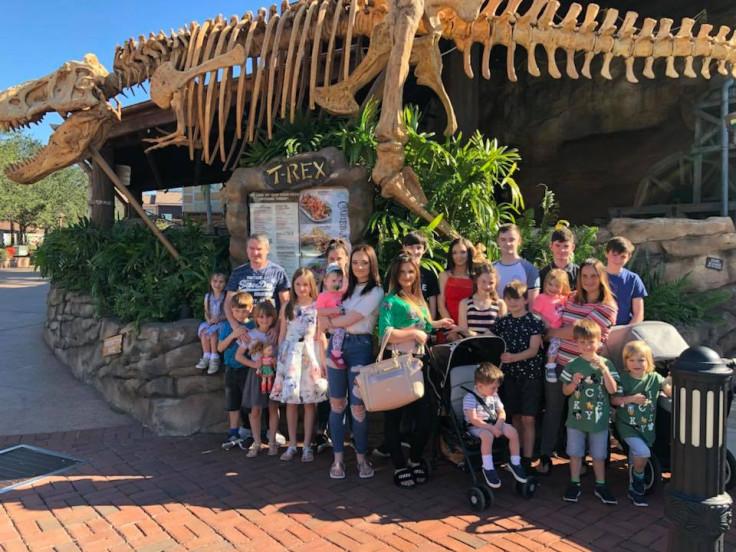 "How can you afford it?" asked another curious social media user. Another pointed out, "They taking em to Florida, how many pies does this bloke sell? #20kidsandcounting."
One user asked, "Florida with 20 kids?? I know they're self-made but that's got to be a £20k holiday," tweet reads. Another asked, "Are they secret millionaires or something?"
Amid all the questions, some users praised the Radford family for managing their 20 children. "I can't even handle my two big sisters how do you think I could handle 20 kids and counting! The parents of those children are needed an award," said one.
Another wrote, "Just catching up with 20 Kids and Counting; what a lovely family but wow how do they cope, it's stressful just having 2; lol they must have the patience of a saint."
They are most commonly known as Britain's largest family, which consists of dad Noel, mum Sue and 20 children - three-month-old Archie, Chris, 28, Sophie, 23, Chloe, 22, Jack, 20, Daniel, 18, Luke and Millie 16, Katie, 14, James, 13, Ellie, 12, Aimee, 11, Josh, 10, Max, eight, Tillie, seven, Oscar, five, Casper, four, Hallie, two, and Phoebe, 16 months.