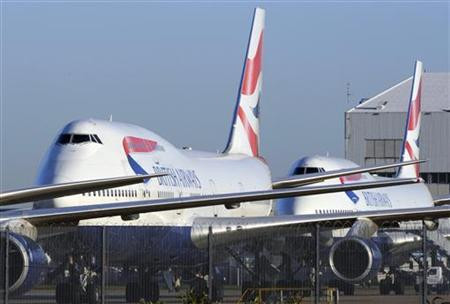 Willie Walsh, CEO of British Airways, has called on Unite leaders Tony Woodley and Derek Simpson to accept a package for cabin crew workers in a bid to end industrial unrest at the airline.
Mr Walsh said that both Mr Woodley and Mr Simpson had accepted "in principle" the package, but still needed to convince the British Airlines Stewards and Stewardesses Association, which he accused of acting like "we are still in the 1970's". BASSA is a part of Unite.
In an article in the Times Mr Walsh said that he was "absolutely delighted" with a court injunction granted yesterday, leading to the calling off of the first of four "unjustified" five day strikes at midnight last night.
However he added that the injunction was little more than a "reprieve" and that a resolution to the dispute was still needed.
Mr Walsh pointed out that nearly a year ago BA had managed to conclude agreements with pilots and engineers.
He claimed that the package BA was offering to cabin crew workers was "very fair" and met "the genuine concerns of crew members", given that the airline made a record loss of £401 million last year thanks to "the worst recession the airline industry has known".
Mr Walsh said that the airline had been avoiding compulsory redundancies and had offered basic pay rises in the next two years which "would be gratefully received by many employees in other parts of the economy". He also said that travel perks for striking crew would be reinstated after earlier taking a tougher line on those who walked out.
This weekend Tony Woodley, Joint General Secretary of Unite, said that BA's offer was an "agreement in principle". However Mr Walsh said that while Mr Woodley and joint leader Derek Simpson would be happy to accept the deal they could not due to BASSA's committee and shop stewards.
Mr Walsh said of BASSA, "They talk openly of a long 'guerrilla campaign' designed to undermine customers' faith in British Airways and inflict as much commercial damage as possible.
"They positively relish the prospect of a prolonged attack on the customers and business that provide their members with well-rewarded jobs, generous pensions and enviable lifestyles... The obstacle to the resolution of this dispute is the refusal of this small group of Bassa hardliners to accept that the world has changed.
"To Bassa, we are still in the 1970s: British Airways is nationalised, facing little competition and ever ready to do a cosy deal with the unions knowing the taxpayer will pick up the tab. Nearly everything harmful about that culture has now disappeared at BA - apart from the legacy of a hard core of union activists who think they have a right to control day-to-day cabin crew operations."
Mr Walsh added tough words for Unite if they could not bring BASSA to heel. He said that he was considering aiming to fly 100 per cent of BA's customers using trained volunteers should there be another strike, up from the 80 per cent claimed by the airline in the last strike.