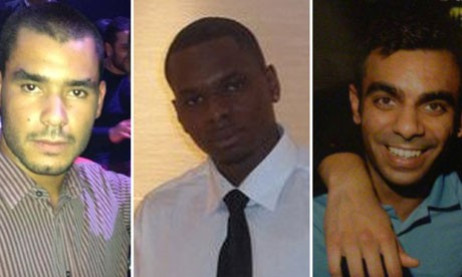 Three British men have been sentenced to four years each in jail for possessing drugs in Dubai.
Grant Cameron and Suneet Jeerh, both 25, and Karl Williams, 26, of London, were found guilty of possessing a synthetic cannabis known as spice in July 2012. They were on holiday at the time.
Charges of intent to supply were dropped.
Their allegations that they were tortured by police while in custody has caused ripples in Whitehall and Westminster. Prime Minister David Cameron has voiced bconcerns about the claims and has called for a full investigation.
The trio said they were tortured by police and allege they were beaten, had guns pointed to their heads and, in the case of Williams, had electric shocks administered to the testicles, according to human rights charity Reprieve.
The three also claim they were forced to sign documents written in Arabic - a language none of them speak - with no translation provided before they were charged. All three men denied the charges.
Cameron wrote to Reprieve that concerns about the allegations of torture have been raised with the United Arab Emirates authorities, including by Foreign Secretary William Hague and Foreign Office minister Alastair Burt.
Cameron will bring up the issue when he meets the UAE president in London this week.
Burt said: "The absence of an independent medical examination [of the men] remains a concern.
Rolling out red carpet
"We continue to press for evidence for a full, impartial and independent investigation into the allegations. During the state visit of Sheikh Khalifa bin Zayed al-Nahyan there will be opportunities to raise a wide range of issues, including concerns about this and other consular cases."
Kate Higham, an investigator for Reprieve, said: "Rolling out the red carpet for a regime which has tortured our fellow citizens will be deeply unsettling for many Britons. It's crucial that the torture of three British tourists by Dubai police - and the wider context of human rights abuses across the UAE - is top of the agenda during this visit."
A Foreign Office spokeswoman said: "The Foreign and Commonwealth Office takes all allegations of mistreatment and torture extremely seriously, and acts with a sense of urgency in all cases.
"We have been providing consular assistance to three British nationals detained in the UAE since July 2012, and are aware of their allegations of mistreatment.
"We have raised, and continue to raise, these allegations at the most senior levels in person and through diplomatic channels, including through ministers.
Dubai police has denied the allegations of torture.