Florence is famous for its beautiful churches and Renaissance art masterpieces, but the Tuscan city is also home to a bone-crunchingly brutal form of football. In the sport of Calcio Storico Fiorentino, which originated in the 16th century, headbutting, punching, elbowing, and choking are allowed – and only sucker punches and kicks to the head are banned.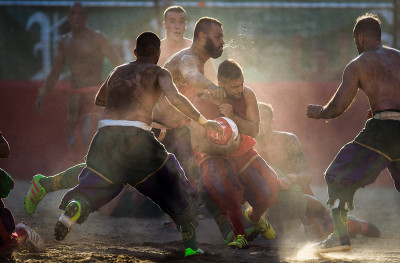 Each team comprises 27 players and a match is 50 minutes without interruption – even if players receive injuries and are stretchered off the pitch. No substitutions are permitted.
This year's second semi-final was even more violent than normal – so much so that riot police had to be called in to separate players of rival teams.
The trouble started 15 minutes into the game between La Santa Croce Azzurri (Blue) and Santo Spirito Bianchi (White) when a player punched the referee and refused to leave the pitch. A 40-man brawl ensued, the riot police tried – unsuccessfully – to restore order, and the game had to be abandoned.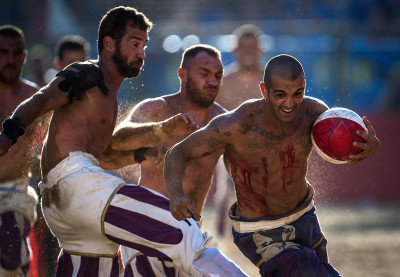 Matches are held every year on Piazza Santa Croce in Florence in the third week of June, with a team from each quarter of the city: Santa Croce / Azzurri (Blues), Santa Maria Novella / Rossi (Reds), Santo Spirito / Bianchi (Whites) and San Giovanni / Verdi (Greens). After playing each other in two opening games, the two winners go into the final which occurs each year on 24 June, which is the feast day of San Giovanni (St John), the Patron Saint of Florence. Calcio Storico was not played for 200 years, until its revival in 1930.