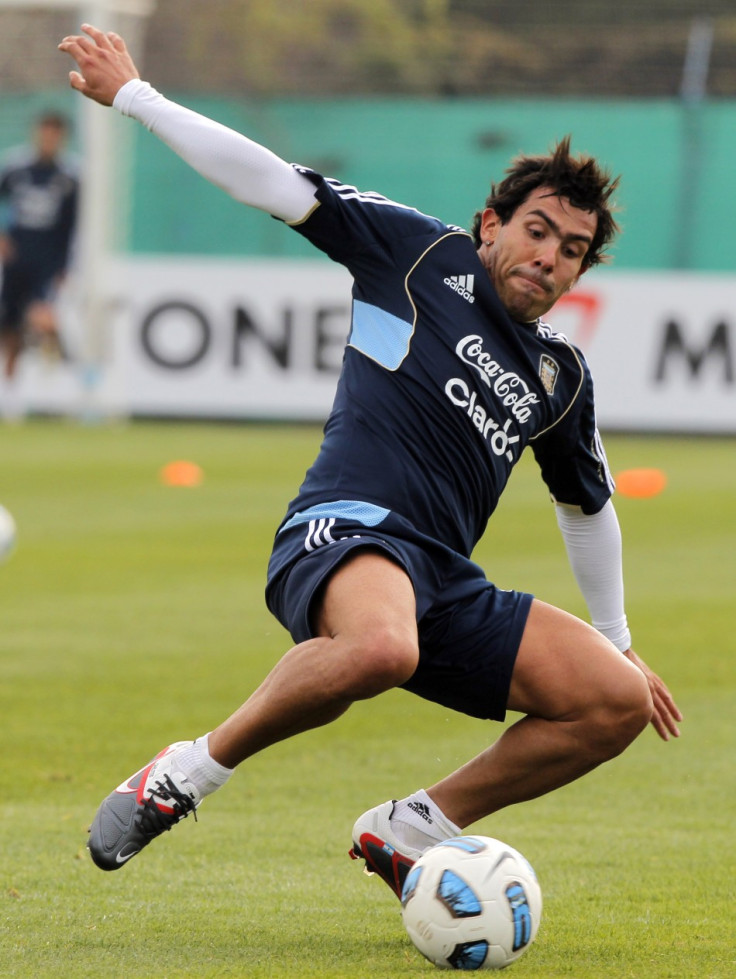 The pick of today's football transfer rumours from Real Madrid including Jose Mourinho's extraordinary bid to land Manchester City strike Carlos Tevez as well the on-going negotiations to lure Neymar to the Bernabeu this summer. In news surrounding players that could be on their way out of Real Madrid, reports suggest that Lassana Diarra and Kaka could be targets for both Manchester United and Chelsea respectively.
Goal.com suggests that Real Madrid is to offer Manchester City either Gonzalo Higuain or Karim Benzema and £25m in an attempt to land Carlos Tevez. The website reports that talks have opened between the two clubs over a possible deal with £25m cash a a swap deal involving one of the two big name strikers moving to Eastlands. Goal.com claims that Carlos Tevez is now Jose Mourinho's number one target ahead of fellow Argentine Sergio Aguero, who he is not willing to pursue much further due to the complications over the clubs rivalry.
Manchester City are said to be adamant that they want £50m for the player and will not allow their captain to leave for a reduced sum. It is thought that Manchester City will prefer a cash only deal but if Roberto Mancini feels either play could fit into their side it is thought the deal could tempt Manchester City to sell.
Real Madrid are said to now be in pole position to sign Brazilian star Neymar. It was thought that Barcelona and Chelsea were interested in the player but Neymar's agent Wagner Ribeiro has said his client wants to join Real Madrid. He said: "The preference of the child (Neymar) at the moment is Real Madrid," said Ribeiro, who added that the player 'always said that they were the club of his dreams'. "We're not talking about the economic side, for that matter there is no problem.
Neymar is one the most exciting young talents in world football and Real Madrid are keen to pull out all of the stops to sign their man. Real Madrid may have to wait until January to sign the strike has Neymar has revealed he will play in the Club World Championships in December.
The Metro claims that Chelsea and Inter Milan are ready to make offers for Brazilian midfielder Kaka. Although Kaka has insisted that he wants to stay at the Bernabeu, he has fallen down the pecking order and if Real Madrid accepts an offer for the player he may decide to end his stay in Spain. It is thought that Inter Milan have already had a £27m bid rejected for the player but are ready to increase their offer. Chelsea are said to be considering a bid for Kaka as their efforts to sign Tottenham's Luka Modric continue to stall.
it has been reported in Spanish newspaper Marca that Lassana Diarra is considering his future at the Bernabeu. The news will interest Manchester United who are said to be keen on the French midfielder who is not in Real Madrid manager Jose Mourinho's plans for next season. Diarra has always maintained that wanted to stay at Madrid and fight for his place but his delusion now looks to be swayed by Laurent Blanc's revelation that Diarra will not be picked for France until he is playing regular first team football. France manager Laurent Blanc has dropped the midfielder for the last three international and now Diarra looks to be taking his international managers advice on the matter.