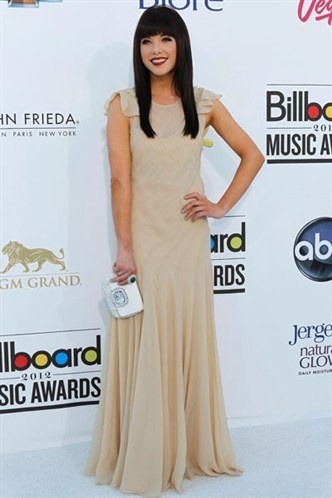 A day after singer Carly Rae Jepsen performed at the 2012 Teen Choice Awards, reports suggest a sex tape of the star is now circulating on the Internet. Entertainment Web site Perez Hilton posted a photograph of a still from the alleged video but the Call Me Maybe singer has denied the girl in the sex tape is her.
"Crazy morning. Discovered that someone put up a sex tape claiming to be me. Ridiculous. Obviously not me," Jepsen tweeted. So far, neither the singer nor her representatives have made any official statement. Twitter, meanwhile, was filled with comments and discussions over the veracity of the tape's claims.
"I don't believe that Carly Rae Jepsen actually made the sex tape...you can't even say it looks like her," one Twitter user wrote. Another Twitter user expressed sympathy for Jepsen: "So apparently Carly Rae Jepsen is in a sex tape??? i guess that guy did end up calling her."
A third user wrote with a message of support and commiseration: "I actually feel sorry for Carly Rae Jepson though...it must be horrible because loads of people actually think it's her in the sex tape."
Allegations of a sex tape aside, Jepsen was spotted wearing a floral top and shorts, while working for a cameo appearance on television drama 90210. The singer, who was noticed by the Daily Mail, seemed to be in good spirits and spent time with the show's star actress Jessica Lowndes.
The singer earlier tweeted about the cameo appearance and seemed very excited by the thought, saying: "Shooting a quick scene on 90210 today. I have two lines. (I already forget one of them.) Looking forward to singing though. Hehe."
In more music-related news, Jepsen has confirmed she will embark on a 50-city tour of North America. She will be accompanied by Canadian singing sensation Justin Bieber, who was a double award winner at the 2012 Teen Choice Awards. The tour is scheduled to begin in September.