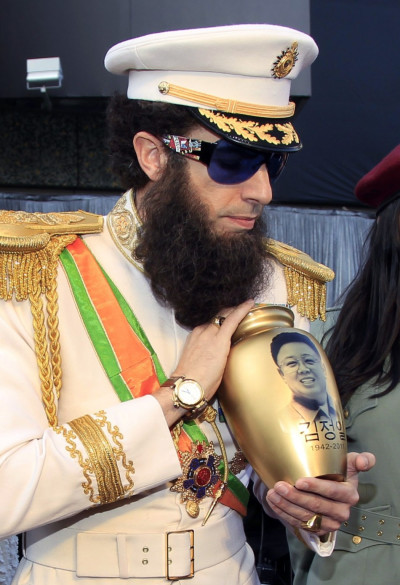 An appearance on the red carpet of any event, film premiere or award ceremony is usually a very important moment in any celebrity's career... even for someone who has been there and done that several times in the past. More than anything else, it allows people to show off fashion styles, trends, accessories, tattoos or that perfectly sculpted body.
In addition, such wonderful moments are captured by the hordes of photographers at all such events and locked away for posterity. However, what if something goes wrong? What is an unflattering moment finds the photographer's lens and that gets locked away?
Check out five of the most embarrassing moments celebrities suffered at various red carpet events...
1. Sacha Barah Cohen on Ryan Seacrest: At the top of our list is the infamous Sacha Baron Cohen episode at this year's Oscars. The comedian came dressed as an unnamed dictator with a golden urn carrying the "ashes" of the late North Korean dictator Kim Jong-il, which he then proceeded to empty on stunned talk show host Ryan Seacrest, who was also hosting the event.
2. Nip-Slip by Jennifer Lopez: When Lopez presented the Oscar for the Best Costume Design and Best Makeup alongside Cameron Diaz, she suffered a slight wardrobe malfunction - her dress slipped down, partially revealing her breasts. Some claim this was a pre-planned incident, while some others remembered similar incidents involving the singer/actress in the past. In either case, the incident became so famous a Twitter account - @JLosNipple - was created within seconds.
3. Zac Efron and the Condom: Actor Zac Efron could not have envisaged more embarrassing moment on the red carpet than the unfortunate instance where he actually dropped a condom, while promoting a children's film - The Lorax. It happened like this - the actor was asked for an autograph and when he took his hand out of the pocket, a little packet dropped out. The actor gave an embarrassed smile and quickly stuffed the item back into his pocket before resuming his promotional activities.
4. Steve-O Diddles on the Carpet: What could be more embarrassing than peeing on the red carpet? There might (we stress on that word) be some explanation if the incident was unintentional. A deliberate such action, however, is a different kettle of fish. Actor Steve Glover actually urinated in front of fans and photographers during the red carpet premiere of Jackass 2. He then walked away as if nothing happened.
5. Kim Kardashian Gets Flour-ed: American reality television star Kim Kardashian is a red carpet veteran. However, even she was surprised when she was assaulted by an unidentified woman while launching her fragrances line at a London hotel, who then ran away. The assault? Well, she threw a bag of baking flour over the actress!