Jurgen Klopp conducted an interview with the Guardian today, in which he expressed to no end just how distraught he felt at finding out that Mario Gotze would be leaving Borussia Dortmund for Bayern Munich.
The news came to him a day after the club had completed one of it's greatest victories in history, coming back from 2-1 down to defeat Malaga 3-2 in extra in the second leg of the Champions League quarter final.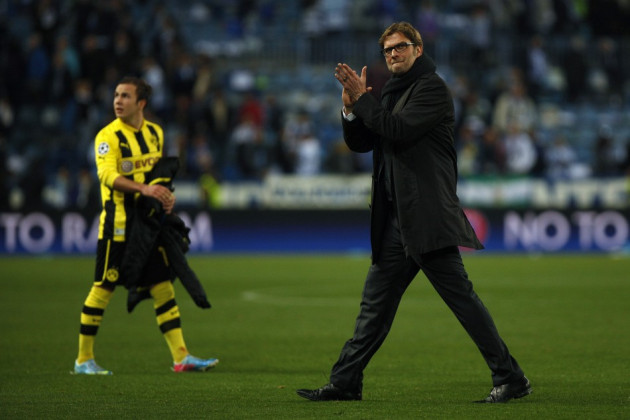 "It was like a heart attack..." he said. "I had one day to celebrate and then somebody thought: 'Enough, go back down on the floor.'
"At our training ground Michael Zorc [the general manager] walked in like somebody had died. He said: 'I have to tell you something. It's possible that ...'"
"Michael asked if I wanted to talk and I said: 'No, I have to go.'
"There were all these calls from the club - we should meet in a restaurant and speak. I said: 'No, I have to be on my own.' Tomorrow I'll be back in the race - but not tonight."
Klopp's description of the shock and dispair he felt in reaction to the news sum up just how the entire club, as well as himself, reacted when they found out that Gotze was leaving. The timing of the exit was somewhat curious - why didn't they wait at least until the season finished? - and left the German manager with even more of a feeling than ever that Bayern had once again attempted to stamp their authority in the coldest way possible.
"The timing of it is not ideal," he said at the time of the announcement to the public, which took place on the eve of Dortmund's semi-final match against Real Madrid. "Anybody can make their own minds up as to why it's come out now, but it is out."
But Bayern's aim to unsettle Dortmund by flexing their transfer muscles didn't work, with the side defeating Madrid 4-1 in the first leg of the Champions League semi final, and holding on for dear life to take a 2-0 defeat in the second and go through on a 4-3 aggregate win.
But Gotze would prove to be a headline grabber for reasons other than his Bayern move in the semi-final tie, with the playmaker going down injured 14 minutes into the second leg. His absence certainly made a difference to a Dortmund side who could normally feed Robert Lewandowski multiple chances through the attacking midfielder, and immediately after the match it was feared he wouldn't be fit in time to face Bayern in the final.
Since that day Dortmund have received promising news on Gotze's thigh injury, with multiple sources claiming he could be back in training this week. If he does play, it won't be all celebrations for the side, with the 20 year old needing to display a killer instinct on the pitch that might not be so present when he knows he will be trying to make friends with the opposition as soon as the final whistle blows.
Coming up against his future club and teammates this weekend will be the perfect climax for weeks of drama surrounding Gotze, and will be the culmination of his relationship with the club and manager who made him the player he is today.
The mental preparation that will have to go into his performance will no doubt be one of the most toughest tasks in football.
Luckily, he has a man who simply oozes passion for Dortmund, in Klopp, to have the last word with and find that inspiration before he runs through the tunnel on Saturday night in that yellow shirt for the last time.