Champions League final: The tactics and mentality behind Diego Simeone's transformation of Atletico
Barcelona have Lionel Messi. Real Madrid have Cristiano Ronaldo. However, at Atletico Madrid, the club's figurehead isn't a player. It's the manager, Diego Simeone. Los Colchoneros have lost marquee players like Radamel Falcao, Diego Costa and Arda Turan over recent transfer windows, but fans at the Vicente Calderon aren't panicking as long as the Argentine boss remains in the dugout.
'El Cholo', as he is known in Spain, has transformed a previously aimless side into one of Europe's legitimate footballing powerhouses. Some have criticised his defensive tactics, but when it comes to results the numbers are hard to argue with. Simeone arrived in December 2011 with the club only four points off relegation, but he led them to the Europa League title just months later. He took another major step forward in 2012-13, winning the Copa del Rey and beating Real Madrid in the final.
The rest of Europe woke up to his talents in 2013-14 when Atletico claimed their first La Liga title in 18 years, as well as reaching the Champions League final.
Raul Garcia, currently at Athletic Club, was a key player in that early Simeone side. The midfielder was part of the team that won the Europa League in 2010 under Quique Sanchez Flores, but upon the arrival of El Cholo he became the manager's representative on the field.
"Atletico had taken important steps before Simeone but he gave us the incentive to make that success something permanent," the former Spain international told IBTimes UK. "The key is that he gave a message that people believed in – not just the players but also the fans. Everyone would follow Simeone to the end of the world."
The Champions League defeat to Real Madrid in Lisbon in May 2014 was seen as a lost opportunity, and some predicted it would mark the end of the Atletico revival. Yet just two years later, they're back in the final. Simeone never stopped believing, and his strength of character has convinced a new crop of players to follow his path. Some even refer to his playing style as 'El Cholismo', an almost religious cult-like mindset. The central tenet is clear – the team is greater than the individual. This is, of course, diametrically opposed to Real Madrid's galacticos ethos.
"Competitive is the best word to describe Simeone and he has translated that to the squad," Garcia said. "The team effort must triumph over everything. If you set yourself high goals you can accomplish things that you never would imagine, but you also have to be humble and respect your rivals."
Former Liverpool left-back Emiliano Insua barely had the chance to play for Simeone during his time at the club, due to the unmovable presence of Filipe Luis. Yet his memories of working under the Argentine are positive.
"I remember his charisma, his intelligence and his tactical ability," Insua told IBTimes UK. "I worked with another tactical genius in Rafa Benitez, but El Cholo has a unique motivational ability. Now that I am not managed by him I notice even more how good he was. Maybe when you're under him you don't realise it, but when you're out you see that nobody prepares you for every detail as much as Simeone does. That is what makes a great manager. Simeone trains the player so they know what to do in every single situation. Everyone is clear about their responsibilities."
Simeone's success may have astonished Real Madrid, Barcelona and the other grandees of European football, but it was no surprise to those who knew him during his playing days. Kiko, who won the Copa del Rey and La Liga double at Atletico with Simeone 20 years ago, said: "It was something you could see coming.
"I played with Pep Guardiola in the national team and he was the same. El Cholo was always in contact with the manager and gave him his personal opinion. He is open to listening, and it is one his greatest virtues."
Another key to Simeone's success has been accepting Atletico's financial weakness and using other means to conquer rivals. If the talent of a player is not enough, he makes up for it with hard work. While the club's budget is insufficient to sign market names, El Cholo often finds a cheaper home-grown solution such as Koke or Saul Niguez, or signs a promising starlet like Antoine Griezmann who can be developed and sold on for an inflated price.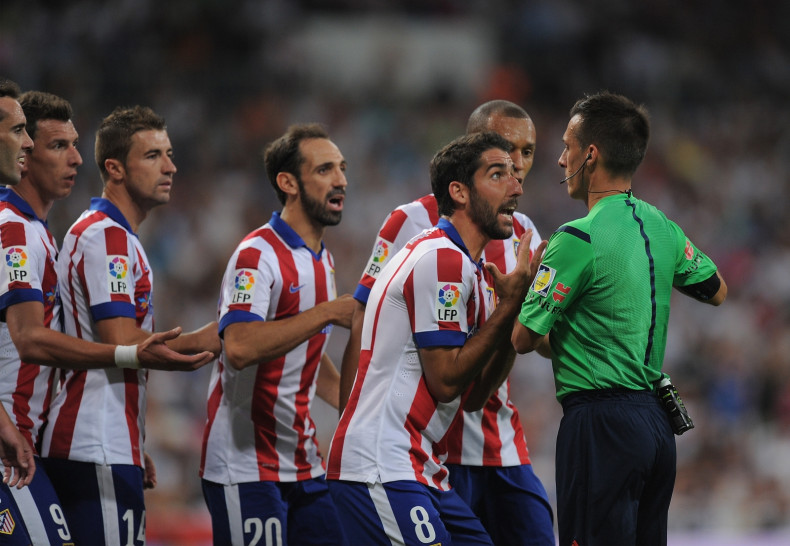 "He demands 100% from his players," Garcia said. "The key is that the player understands if he does what Simeone wants he is going to benefit from it because the group is going to do better."
"El Cholismo is a philosophy of life: work, effort and perseverance," Insua added.
Simeone himself has said that managing Atletico is not the same as driving a Ferrari as Luis Enrique or Zinedine Zidane do. It's like having control of a Peugeot. However, he has proven that his modest car can compete and defeat the most luxurious ones. many have questioned his touchline antics, which have a hint of the Jose Mourinho, but his passion also hides a softer side. After beating Bayern Munich in the Champions League semi-final he made a video call to his son to share the delight. Two seasona go, he turned to Irene Villa – a woman who had lost her legs in a terrorist attack – to give the players a motivational pep talk.
"Tactically he is very good, but he also has the psychological aspect of the game in mind," Garcia says. "He understands the player and knows exactly how to deal with him to get the best out of him. There are days that he prefers a chat but another day he will give you a rest so you can think by yourself."
Insua adds: "He has a very good relationship with the dressing room, but can also be distant. Other managers like to listen to the player. He doesn't, he just tells you what he thinks – and obviously that method is paying off. The mix of being close and distant at the same time helps to get 120% from the player. Nobody sees themselves as an untouchable starter and everyone give their best in every workout. My experience tells me that he works with the fringe players at the same level as the starting XI because he takes cares of everyone as what matters is the group."
His critics argue that his success is based on ultra-defensive anti-football. Griezmann himself recently admitted Atletico's style is not the prettiest, but it is paying off. Insua added: "It is true that he always says the main thing is to defend well but you need to work hard at that and what you see on the pitch is not luck but hard work and perseverance. He says that if we keep a clean sheet we have many chances to win. And it is true because Atletico have quality up front and will always have a chance to score."
The reality is that El Cholo gets the best from both defenders and attackers. Falcao, under him, was a challenger to the dominance of Messi and Ronaldo. Costa went from being a back-up into one of Europe's most feared strikers. Griezmann came in as a winger and now, playing closer to goal, is seen as a potential future Ballon d'Or winner.
Jan Oblak and Diego Godin look like the best in the world in their respective positions, but are they really the greatest goalkeeper and centre-back on the planet, or do they just look like that because of Simeone?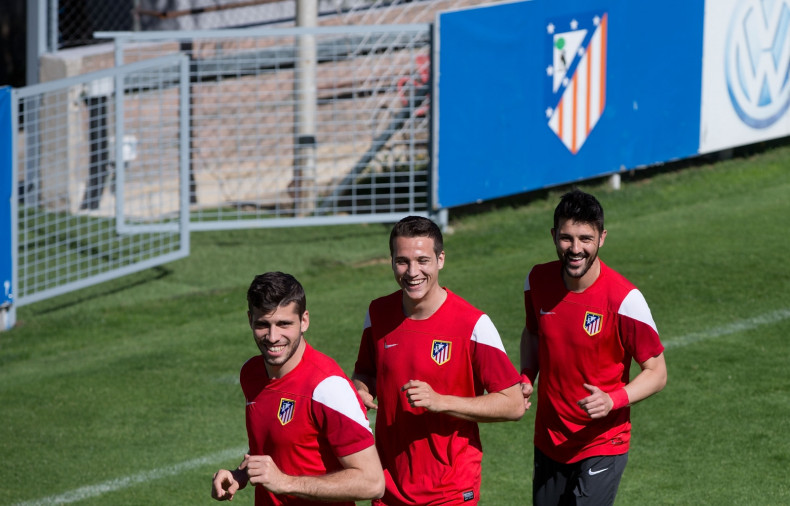 Insua said: "That's why Godin turned Manchester City down [last summer] to stay. Simeone has made them better both as a team and individually. Athletico are a team that works together and everyone knows what to do. When a player is good and has the help of his teammates he looks better, because they enhance your strength. The players value that. When Costa left for Chelsea he needed to adapt. His weaknesses are highlighted then because without the help of your team you need to do twice the work to get the same result."
Critics have pointed out that Atletico have spent around £125m in the last 12 months to bolster the club's ranks with the likes of Jackson Martinez, Stefan Savic, Luciano Vietto, Yannick Ferreira Carrasco, Filipe Luis, Augusto Fernandez and Matias Kranevitter. However, they forget that at the same time the club made £110m for selling a number of players who developed under El Cholo such as Arda Turan, Joao Miranda Garcia, Raul García, Mario Mandzukic, Toby Alderweireld and Martinez himself.
New Manchester United boss Mourinho, Guardiola, Benitez and other leading manager of recent years have all been characterised by getting the best out of players in the short-term but burning out a team at around three seasons due to their excessive demands. Simeone, like Sir Alex Ferguson, looks to improve his team every day. After five seasons at Atletico the feeling is the best is yet to come. Why?
"Because he has convinced everyone that his message is the right one," Insua answers. "When he arrived Atletico were a good team, but now they are one of the best. Some players who didn't even play are now one of the most coveted in the world. They value that."
Football has always been divided between those who push the 'joga bonito' versus those who only care about the result, no matter what. The romantics against the pragmatists, Johan Cruyff's Dutch school against catenaccio, Bilardistas against Menotistas... The 21st century was meant to be a battle between Guardiola's tiki-taka and the defensive mindset of Mourinho. However, Simeone has stolen the limelight and can now be seen as the true champion of the 'winning ugly' mentality.
Beating arch-rivals Real Madrid to win the Champions League would just be the icing on the cake.