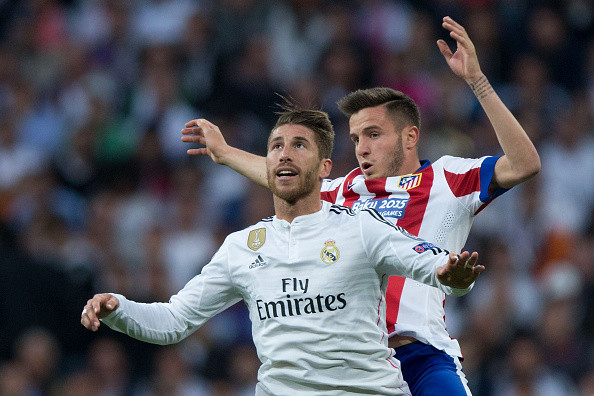 Real Madrid captain Sergio Ramos has claimed that he "fortunately" decided to snub Manchester United last summer to stay at the Santiago Bernabeu as Los Blancos are ready to play their second Champions League final in the last three campaigns. The 30-year-old was heavily linked with a move to Old Trafford during the last summer transfer window after his relationship with president Florentino Perez broke down.
The Spanish international defender had been a crucial player for Real Madrid since joining them as a youngster from Sevilla in 2005 but felt disappointed with the club reluctance to hand him a lucrative deal to end his career at the Santiago Bernabeu. Louis van Gaal himself then admitted that his signing was an option and reports in Spain claimed that the Premier League giants offered him a salary in the same line of Wayne Rooney's to convince him to make the move.
Despite Ramos claiming heconsidered that offer he eventually manage to turn around things with Perez and sign a new long-term deal with Los Blancos.
The decision paid off as the Real Madrid captain has enjoyed another impressive season at the Santiago Bernabeu which could end with the Champions League crown. Yet, at Manchester United the situation is quite different as the Premier League giants have recently sacked van Gaal after failing to reach the top four – although they did win the FA Cup.
Asked during an interview with Cadena Ser about the decision to snub United last summer, he said: "Well... that is something that has passed, decisions which fortunately I got right," he said. "The choice was to stay here. When you put in a balance happiness, felling and family the balance obviously come to a side and I am proud to be here many more years."
Yet, Real Madrid's season depends much on the final game of the season, as they have seen Barcelona recapture both La Liga title and the Copa del Rey Crown. Some predict that should Los Blancos fail to beat Atletico on Saturday the club could embark in another transfer overhaul. Ramos, however, believes that Zinedine Zidane has found balance in the team since he took over Rafa Benitez and doesn't expect a busy summer.
"I've already been 11 years at Real Madrid and every summer it is said that we are going to sign 40 players. Any player who shines is wanted by Real Madrid, his price increased and it is said that everyone want to come to Madrid ... We need to know how to deal with this things and I try to disconnect."
Ramos played a key role in the last Champions League final against Atletico Madrid two years ago after he headed an equaliser in the 93th minute of the game before Gareth Bale, Marcelo and Cristiano Ronaldo scored in extra-time.
"It is very difficult (to have reached another final only two years after) as the history proves," he recalls ahead of the Saturday game. "Don't give credit only to Real Madrid but also to Atletico Madrid that are also here after only two years thanks to their work.