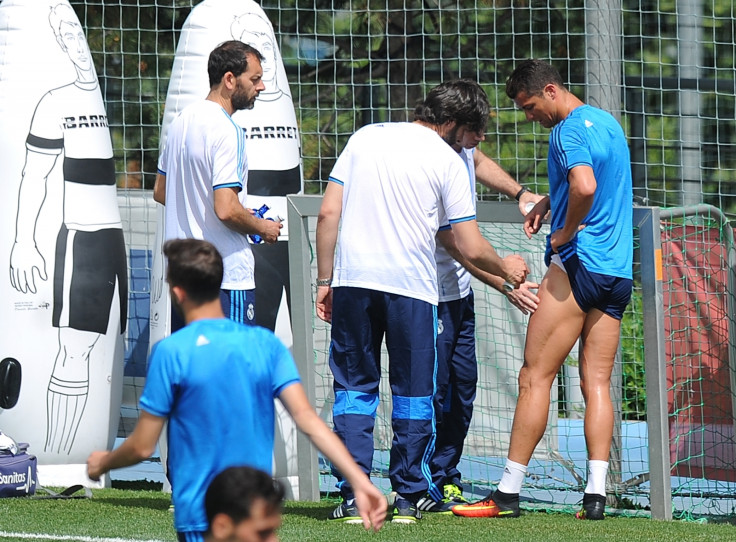 Cristiano Ronaldo has given Real Madrid fans reason for concern after the Portuguese star suffered a knock in his thigh during the Tuesday training session. The incident occured as Los Blancos continue their preparation for the Champions League final against Atletico Madrid on Saturday (28 May). The former Manchester United star, however, has ruled out any major issue, telling supports he will be back to 100% within a few days.
Ronaldo's fitness has been a worry at the Santiago Bernabeu ahead of the European final, amid suggestions he has not completely recovered from the injury that saw him miss the first leg of the semi-final against Manchester City last month. Ronaldo was substituted by manager Zinedine Zidane after scoring twice in the first half of the last La Liga game of the season against Deportivo de La Coruna. Also, last week he trained on his own at the gym before missing a training match organised by Zidane ahead of the final.
The former Manchester United star took advantage of the two days off given by his manager on Sunday and Monday to continue areturn to full fitness while working out at home, as he displayed in an Instagram picture earlier this week.
However, the Portuguese star sparked new concern in his return to training on Tuesday morning after he was forced to leave the workout earlier than expected following a collision with goalkeeper Kiko Casilla. As the session was open for the press due to an Open Media Day ahead of the Champions League final, the reporters saw how the Real Madrid medical team quickly attended to the player on the pitch, before making the decision to send him to the dressing room and avoid any further risk.
Ronaldo later admitted he suffered a small "issue" during the session but played down a injury concerns ahead of the final, expressing his hopes to be back in training either on Wednesday or Thursday to continue the preparation for the crucial game with Atletico Madrid.
"I've had a minor issue in training but I'll be fine tomorrow or the following day," Ronaldo said to the official club website. "I am calm. We are training well and surely we will be ready for the final. We are fine, we are on the right track."
Zidane added: "There's not going to be any problems with Cristiano Ronaldo going in to the final at 100%. "
"On Saturday he didn't play a game we played between ourselves as precaution. We'll see how he is today, but he'll be ready for next Saturday. We're going in to it on form, as we should be, but this doesn't mean anything. James is also a bit better and so is Arbeloa. The only bad one is Varane and that is serious".