Benitez: I Lost My Temper to Help Chelsea
Benitez believes Chelsea can win the FA Cup, the Europa League and finish second in the Premier League this season
Chelsea manager Rafael Benitez has tried to clear the air after his vitriolic midweek outburst, when he accused the supporters and Stamford Bridge officials of not supporting his position. The ex-Liverpool boss has now said the entire argument was staged, for his players' benefits, to help bring their supporters to their senses.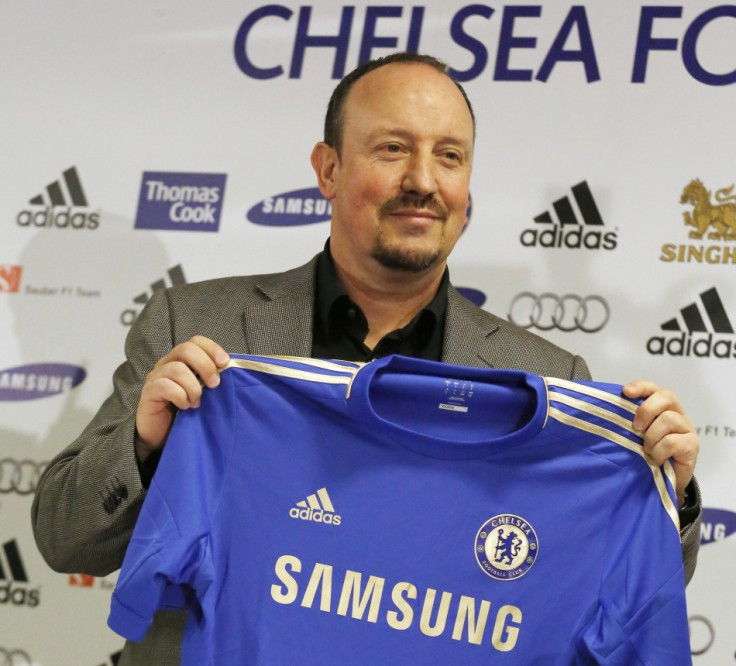 "A lot of them [have thanked me].A lot of the players have been supporting me, telling me to carry on doing my job. I was trying to do the best for my team. And the best for my team is to have a very good atmosphere behind them, feeling their support like against Napoli last season and Arsenal [in January]," the Spaniard said.
"They were running an extra mile in those games, so I was trying to explain that if we stick together it will be easier. The players would enjoy having everyone pushing in the same direction," he added.
The Blues have fallen hard and far from the highs of winning their maiden Champions League trophy around this time last year. They've sacked Roberto Di Matteo, the man who brought them that crown, have been eliminated from the Champions League's group stages and are 19 points behind Premier League leaders Manchester United.
The only saving grace of the season so far is that they remain in contention for two titles - the FA Cup (they play United in a fifth round tie) and the UEFA Europa League (they play Romanians Steaua Bucharest in the third round).
Benitez on Top Two Finish
Meanwhile, Benitez has again stressed that the west London outfit can finish above defending league champions Manchester City, who are presently second in the table and seven points ahead. City hosted Chelsea at the Etihad last weekend and finished 2-0 winners. That result, coupled, with Spurs' defeat of West Ham means Benitez is fourth, ahead of this weekend's games.
"I'm positive we can carry on and finish in the top three or top two, we will see, but that's my feeling. Realistically it's not easy, Manchester City are a good team with good players, but you never know in football. Top two, top three and two trophies, it's very clear we have good chances. We will try to do our best in every competition. West Brom are first, then we will try to progress in the Europa league and FA Cup," Benitez explained.
© Copyright IBTimes 2023. All rights reserved.