Atletico Madrid manager Diego Simeone has hinted the club would consider re-signing Chelsea forward Fernando Torres, if he becomes available at the end of the season.
Torres made over 200 appearances for Atletico before moving to Liverpool in 2007 and is expected to welcome a move back to Spain as he continues to struggle at Stamford Bridge. The player has scored only seven goals in 28 league appearances this season; a meagre return for top club's forward. However, Simeone, who played with Torres during his time at Atletico, is willing to give the player a lifeline, so that he can re-establish himself.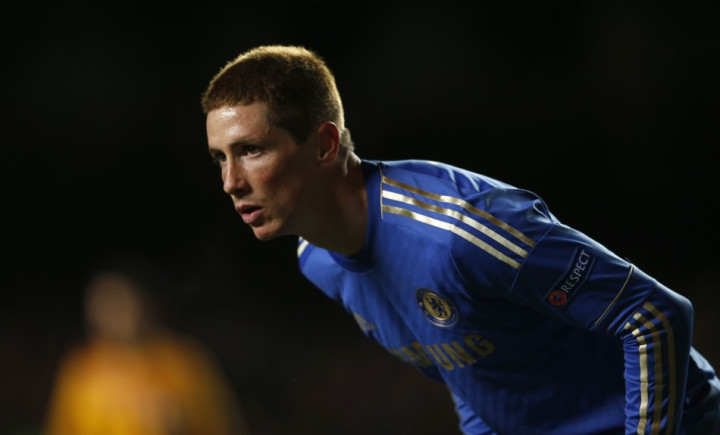 "Fernando and I were team-mates here, I know how important he can be for Atletico. Fernando knows about the club's history, what it means to play here and I don't need to speak about his ability. He now plays elsewhere, so anything would have to wait until the season is over. Only then can we see who is available and who could do well here," Simeone said.
The revelation can be a win-win situation for both teams, with Atletico striker Radamel Falcao heavily linked with a move to Chelsea in the summer. Simeone's interest in Torres can open up a player-plus-cash deal, thus sparing Chelsea a part of the £48m fee required to land Falcao.
Torres, who has been omitted from the Spain squad, can also benefit from the move as some good performances for the La Liga side could help him land a place in La Roja squad for the 2014 FIFA World Cup in Brazil. However, Torres has also been linked with a move to Russian giants Anzhi Makhachkala, which would surely be a better proposition for the Spaniard, financially.
Defoe Backs Lampard
Meanwhile, Tottenham striker Jermain Defoe has said he is mystified by Chelsea's reluctance to offer Frank Lampard a new contract. The striker believes Lampard still has two or three more years of top flight football left in him and would be a great miss for the Blues, if he is allowed to leave.
"I don't know his situation at Chelsea but in my opinion he is someone you can't replace because of the amount of goals he has scored over the years. He is a special player. He can easily go on for another two or three years. At the end of the day you know you are going to get goals. You know what you are going to get from Frank and goals win games. I'm sure Chelsea won't get rid of him. He is a special player," Defoe said.