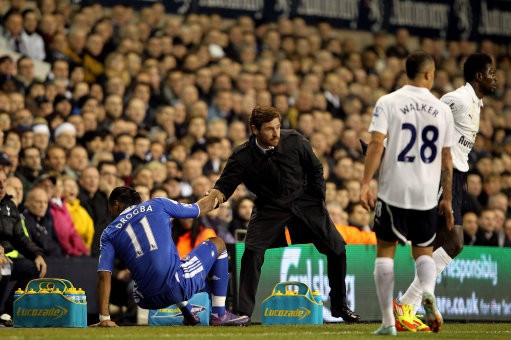 All is not well at Stamford Bridge, if the buzz is anything to go by.
The brand of hardcore professionalism which Andre Villas-Boas believes in means there is hardly any free interaction between him and his players, apart from conveying the routine strategic guidelines and directives.
According to Goal.com, the lack of meaningful interaction between Villas-Boas and his squad as well as the manager's use of players like Frank Lampard and Juan Mata have been causing "increasing disgruntlement" among senior players.
The grapevine is that even senior players have little say in running the dressing room. While captain John Terry recently denied reports of dressing room unrest at Stamford Bridge, senior players like Didier Drogba have hinted that all is not quite well in the Chelsea dressing room.
"It is not a happy camp. It seems to be a deliberate strategy by Villas-Boas not to talk to the players. Villas-Boas thinks he has to do it to establish himself at the club but there is a lot of distance and hostility between him and the players. The senior guys feel ostracised by him," Goal.com quoted a Stamford Bridge insider as saying.
"The players feel they are not being listened to anymore, which has led to disenchantment in certain quarters," the source told the website.
Villas-Boas' refusal to acknowledge the contribution of Frank Lampard, who scored the late winner against Wolverhampton Wanderers recently, at the post-match media briefing too angered some of the senior players. "None of the players could believe it, it's shocking treatment. Lampard has given everything for this club and his treatment by the manager is disgusting," a club insider told the Sun newspaper.
The lack of a players' advocate who can interact between the players and the management is apparently aggravating the rift. Also, some of the officials are being viewed with suspicion by the players, Goal.com said. For instance, Michael Emenalo, the technical director, is widely seen as "Roman Abramovich's eyes and ears" at the club's Cobham headquarters, the report noted. "He is the spy in the camp, so people are quite wary of him," the club insider added.
There have been several reports of disquiet in the Chelsea dressing room during Villas-Boas' six-month reign. He continues to enjoy the trust and goodwill of the management despite a not-so-great start to the season marked by some inconsistent performances. He is also said to have a free hand now in shaking up the squad at his will during the winter's transfer season.
After all, Chelsea are the only English team to enter the Champions League knock-out stages apart from Arsene Wenger's Arsenal.