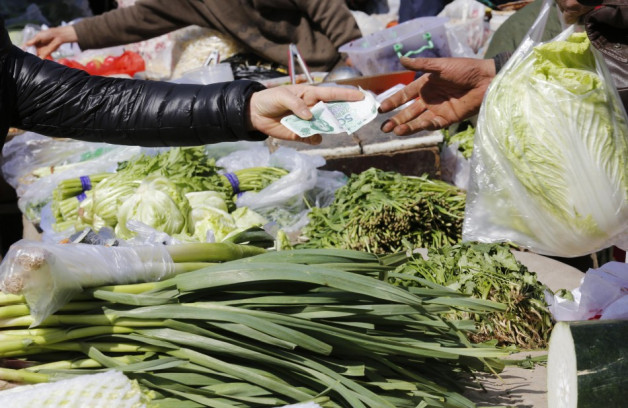 China's inflation rose more-than-expected in April on higher food costs, limiting the central bank's ability to ease monetary policies to boost economic growth.
The National Bureau of Statistics (NBS) said the country's consumer price index (CPI) inflation rose to 2.4% in April from 2.1% in March. Analysts expected an increase to 2.3%.
Food prices rose 4% on an annual basis in April, compared to a 2.7% rise in March. Yu Qiumei, a senior statistician at the statistics bureau, said in a statement that rising vegetable prices were the main reason for the CPI increase. He noted that the bad weather and lower rainfall during the month lowered vegetable supplies.
However, the world's second-biggest economy's producer prices declined by 2.6% in the month, compared to a 1.9% decline in March due to a pullback in raw material prices. Analysts expected a decline of 2.3%.
The increase in consumer inflation, the key measure in shaping central bank's decisions on monetary policies, comes as investors are waiting for fresh policy easing amid slowing economic growth. The People's Bank of China is due to issue three-month bonds to reduce some liquidity from the money market.
Inflation is expected to rise further on increased consumer demand amid a slow recovery in the country. However, some analysts expect the rate to remain below the government's target of 3% in May and the central bank is likely to go for a rate cut given the tepid growth.
"We believe that the mild inflation outlook, together with sluggish domestic demand, has set the right conditions for a rate cut," said analysts at ANZ Research.
China's economic growth has slowed down to 7.7% in the first quarter from 7.9% in the previous quarter. For 2013, the country targets a growth of 7.5%, but recent data on trade and factory output raised questions about the recovery.
Factory output growth slowed in April, while analysts were doubtful about the accelerated trade growth.