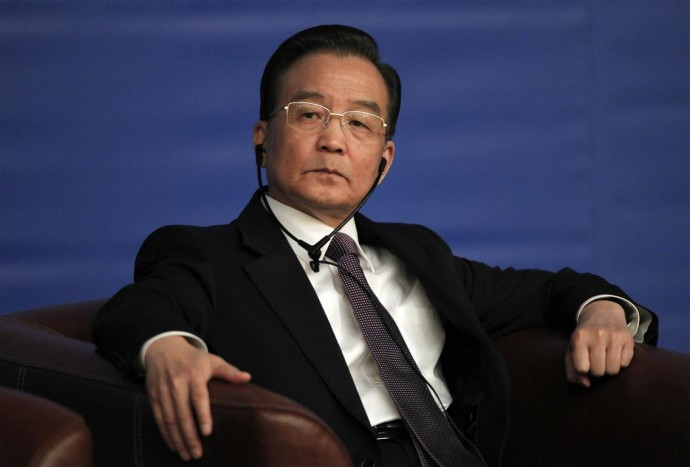 Britain and China unveiled a series of deals worth 1.4 billion pounds ($2.3 billion) during a visit by Chinese Premier Wen Jiabao on Monday, including a new agreement between energy group BG Group and Bank of China to help BG expand there.
"Our target is a hundred billion dollars of bilateral trade by 2015, something we discussed and agreed again this morning. To achieve that both countries must continue to make the case for mutual commitment to market access," UK Prime Minister David Cameron said.
"I'm delighted that today's summit has seen new deals signed worth another 1.4 billion pounds. This includes BG's memorandum of understanding with the Bank of China."
Cameron was speaking at a news conference with Wen following a summit between the two leaders. Wen is in the middle of a European tour taking in Hungary, Britain and Germany.
"The breadth of deals agreed today shows that we can all gain from freer markets and that the EU and China should continue to open up to trade in both directions," Cameron said.
The summit builds on Mr Cameron's visit in November when he led the largest ever British ministerial delegation to China, securing a range of commercial and Government arrangements, including a Rolls Royce deal worth $1.2 billion.
This was followed by the visit to the UK of vice Premier Li Keqiang when deals to the value of $2.6 billion were concluded.
Bilateral trade between the two countries is expected to reach $100 billion by 2015 and British goods exports to China are up by more than a fifth since the PM was in Beijing.
The summit is expected to concentrate on three key areas that will enable both countries to increase bilateral trade and cooperation. Discussions will thus review new opportunities to help boost UK growth through a package of deals, likely to be worth more than £1 billion, focus on developing closer ties in areas like education, science and culture, architecture, civil engineering and research and development, climate change and international security.
However, as the two leaders are also due to sign an agreement enabling UK firms to exploit opportunities beyond Beijing and Shanghai in China's fast-growing regional cities, the issue of Human rights came back on the agenda.
Downing Street said it regards freedom of speech and the rule of law as essential to the long-term prosperity and stability of the world's fastest-growing major economy.
Asked whether he had raised human rights during the talks, Mr Cameron said: 'There is no trade-off in our relationship. It is not about either discussing trade or human rights.
'Britain and China have such a strong and developed relationship. We have a dialogue that covers all these issues, and nothing is off limits in the discussions that we have.'
'We are different countries, we have different histories, different stages of development.
'We should show each other respect. But we're very clear that political and economic development should go hand in hand, that one supports the other.'
Mr Wen said: 'On human rights, China and the UK should respect each other, respect the facts, treat each other as equals, engage in more co-operation than finger-pointing and resolve our differences through dialogue.'
He went on: 'China is not only pursuing economic development but also political structural reform and improvement in democracy and the rule of law.'
Mr Wen, who arrived in the UK with his delegation on Saturday night visited Shakespeare's birthplace in Stratford-upon-Avon, Warwickshire, and Longbridge car plant in Birmingham.
However, in Birmingham, the leader faced human rights protests as several dozen activists with banners and loudspeakers had gathered outside the factory.
Yellow-shirted supporters of the banned Falun Gong spiritual movement were among those waving placards denouncing China's human rights record.
'Cameron and Wen. Human rights before trade,' their banners read.
Protesters also gathered outside London's Mandarin Oriental Hyde Park Hotel in anticipation of the Chinese premier's arrival and chanted 'shame on China' and held banners reading 'Tibet will be free'.
However they were soon outnumbered by supporters of pro-China demonstrators, who came to support Mr Wen's visit, with many waving Chinese and UK flags.
A Downing Street spokeswoman said Mr Wen's visit would mark 'the next step in our strengthened relationship' with China.
'China's rapid economic rise is good news for the UK. It means more money flowing into our economies and has the potential to create more jobs and investment opportunities for British business at home and in China.
'The summit will be an opportunity to tap that potential and to continue to work closely with China to find global solutions to a range of issues from climate change to global security.'
As Greece stands on the verge of an economic collapse, China has also vowed to increase its support of the Eurozone after pledging to spend billions of pounds propping up the single currency and Wen told reporters Europe could count on his 'unremitting' support.