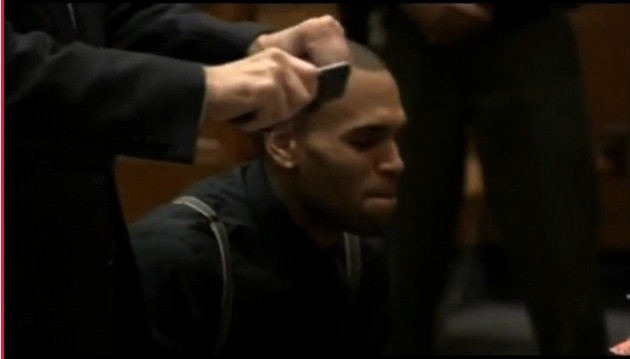 He is used to having the last word so Chris Brown was understandably surprised when he received a firm telling off from his lawyer during a recent court appearance.
The Turn Up The Misic hitmaker was attending a progress hearing in connection with his conviction for assaulting R&B singer Rihanna, when he was given a stern warning by famed celebrity lawyer Mark Geragos .
When Brown attempted to interrupt in the Los Angeles courtroom, an unimpressed Geragos quickly upbraided him by saying: "I don't dance, you don't talk."
The 23-year-old star, clearly taken aback by the witty response, was soon laughing off the comment.
Geragos was applying for permission from Superior Court Judge Patricia Schnegg for the star to travel abroad for his upcoming world tour.
The Don't Judge Me singer, who is currently on supervised probation for his felony assault on then-girlfriend Rihanna in 2009. Under the original terms of his probation, Brown was unable to travel abroad - a major hindrance to his plans to tour Europe and South Africa later this month.
However the court heard from a probation officer that Brown "appears to be making a sincere effort with terms of probation," and the star was eventually given permission to travel overseas, although he must remain on probation until he returns from the tour.
Brown is scheduled to court on January 17, when his situation will be reviewed.
The R'n'B superstar kicks of his tour on 14 November. He is expected to perform in Dublin, Amsterdam and London.
Watch the courtroom video here: