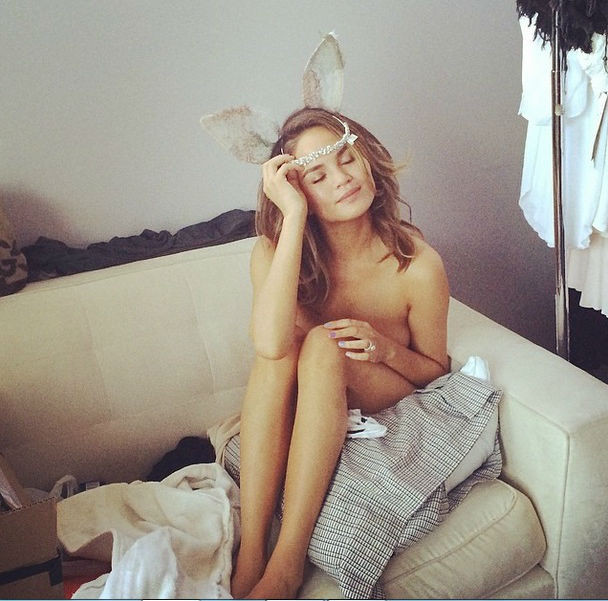 Chrissy Teigen has shocked her fans once again by showing off her hot body on Instagram.
The Sports Illustrated model has posted a naked photo of herself from a photo shoot. Teigen, wife of singer John Legend, has had no problem posing topless before but this time she bared all and slipped into her sensual birthday suit, accessorised with bunny ears.
The Twitter-loving supermodel posted her sexy picture on Instagram and captioned it "Work ughhhh so harrrrrd."
The picture drew a lot of ire from fans with one person asking Teigen to 'cover up' while another fan commented: "You are a married woman – cover up or find other means of fulfilling your depraved need for attention cup."
The supermodel fired back right away to the harsh comments and took a snapshot of the spat to post on Twitter.
Teigen is known for her candid shares on social media and her bitter answers to criticisms.
"Because you have to realize that, 'Oh, now we're in a feud?,' No! It was never meant to be a feud, I like to share different aspects of my life, but now I guess I have to realize that sometimes, things are going to get twisted and be blown out of proportion," Teigen told E! News, explaining her Twitter spats.
"I regret things all the time. I've never regretted not saying something. I've only regretted saying something," the supermodel added.
Going topless is not a strange act for the newly married supermodel, who has posted a topless video on Valentines' Day to show her love for husband Legend.