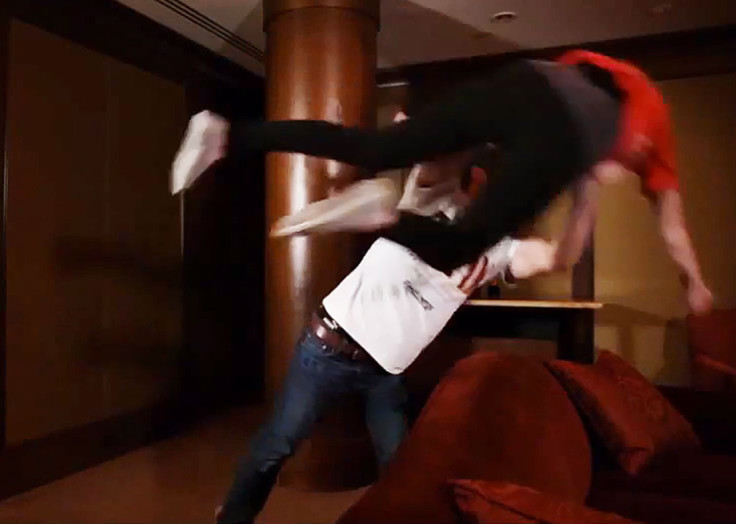 America's Cleveland Cavaliers basketball team has apologised for a "joke" video showing a man hurling his wife over a sofa. The tone-deaf prank comes at a time when US sports management is battling complaints about insensitivity to serious domestic violence among its players.
The video, played at a team home game in the middle of the Cavs' 106-91 playoff victory over the rival Chicago Bulls, shows a man throwing a woman across a room for wearing a Bulls T-shirt. "Bulls fan?" he asks. "I didn't know you were a Bulls fan." The woman remains lying on the floor in apparent pain, checking her body for wounds. An announcer then says: "When it's playoff basketball time, you have to be all-in. Don't make the same mistake she made."
It ends with the woman holding an ice pack on her head, saying, in a nod to the Cavs' motto, "Well, I'm all-in now."
The team said the video was supposed to be a spoof of a popular TV commercial showing a couple falling as they attempt the famous lift in the movie Dirty Dancing. But the Cavs backed off the video quickly in the face of angry criticism.
"We ran a 1-minute in-arena video that was intended to be a humorous spoof on a popular commercial centered on a song and dance from the classic movie 'Dirty Dancing,'" the Cavaliers said in a statement on the team Web site. "While the video was not intended to be offensive, it was a mistake to include content that made light of domestic violence.
"Domestic violence is a very serious matter and has no place in a parody video that plays in an entertainment venue. We sincerely apologize to those who have been affected by domestic violence for the obvious negative feelings caused by being exposed to this insensitive video."
Members of the game operations and marketing crew were meeting to try to figure out how the video made it to the stadium without anyone raising serious objections.
"The Cavaliers organization has a strong and lengthy track record of supporting domestic violence-related causes and efforts," the team insisted.
US sports administrators, particularly in the National Football League, have been hit by a storm of controversy for their failure to get tough on their players' domestic violence. In one of the most shocking examples, Baltimore Ravens running back Ray Rice was videotaped last year on an elevator punching his fiancée unconscious during an argument, then dragging her out by her hair. He was finally suspended by the NFL, but then reinstated.