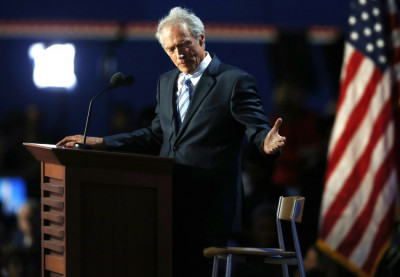 Clint Eastwood's conversation with an empty chair at the Republican National Convention (RNC), in Tampa, Florida, has triggered waves of mockery on the internet.
The Oscar-winning director of Unforgiven and Million Dollar Baby held an imaginary dialogue with President Barack Obama, prompting the worst critical reviews of his 50-year cinema career.
President Obama began a tirade of condemnatory tweets against 82-year-old Eastwood.
"This seat's taken," Obama tweeted from his official account, attaching a picture showing him seated on the presidential chair.
"I just watched Clint Eastwood debate a chair and the chair won," wrote Twitter user Julius Sharpe.
"Clint Eastwood is now backstage arguing with a vending machine," wrote comedian Daryn Jones.
"If Clint Eastwood insisted on talking to an inanimate object he could've just chatted with Mitt Romney," tweeted user Daddyfiles, mocking the Republican candidate's reported lack of charisma.
"I can't believe I just watched Clint Eastwood turn into somebody's DRUNK UNCLE HARRY on the stage of the RNC," said Star Jones, contributor to NBC's Today show.
A few minutes after Eastwood walked on stage an @InvisibleObama account was created, in honour of the empty chair he was talking to. The account gained more than 35,000 followers within five hours.
"Clint convinced me. I'm voting for the chair," tweeted user Bobbie Oliver.
"Clint Eastwood still makes more sense than Sarah Palin," Tweeted user DC Debbie.
Clint Eastwood on the phone with Obama now: "It all went according to plan, sir," was written by a parody account of actor Chris Rock.
"20 years ago I wanted Clint Eastwood to make my day. Now I just want him to take his pills and be grateful he doesnt need medicare," wrote Nancy Lee Grahn, General Hospital actress.