Conor McGregor attempted to throw a chair at his UFC 205 opponent Eddie Alvarez at another volatile press conference in New York.
McGregor, the reigning featherweight champion, is aiming to make UFC history by becoming the first man to hold two belts at the same time when he challenges for Alvarez's lightweight title at Madison Square Garden on Saturday (12 November).
As has become a trait of sorts for the Dubliner, McGregor was nowhere to be seen as the press conference began on Thursday, prompting Philadelphia-born Alvarez to storm off stage. His opponent did eventually show up, decked out in a white mink Gucci jacket (a throwback 'Smokin' Joe Frazier, perhaps?) and made a beeline for Alvarez's lightweight title, scooping it off his side of the table and placing it in front of him.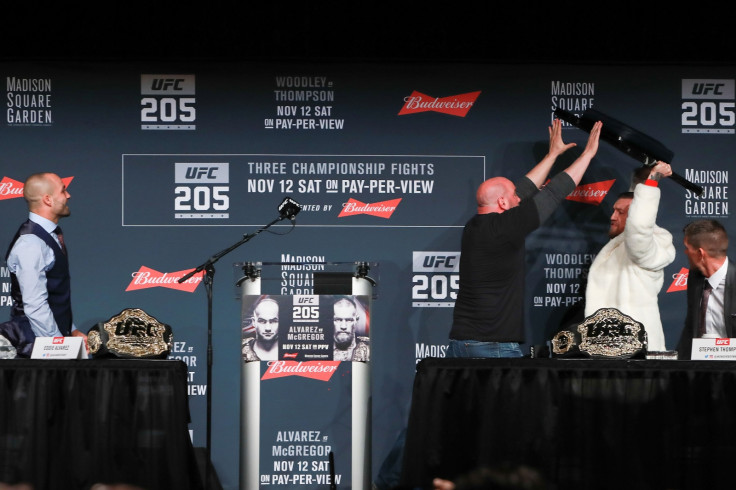 Alvarez returned to the stage and took his belt back, before picking up his chair and dropping it behind McGregor. That moment ignited the situation, with UFC president Dana White forced to push McGregor away as he went for his opponent, dragging the chair out of his hands with the help of a member of security. McGregor then tried to get across to Alvarez again only for White to grab him in a bearhug and haul him away.
When the situation finally calmed down, McGregor was asked what he intended to do with the chair. Alvarez interjected: "Not a f*****g thing."
"Bounce it off his f*****g head," was McGregor's response.
Earlier this year, McGregor was fined $75,000 (£59,240) by the Nevada Athletics Commission for throwing cans of energy drink and bottles of water at Nate Diaz and his entourage as another press conference erupted into a melee in August.