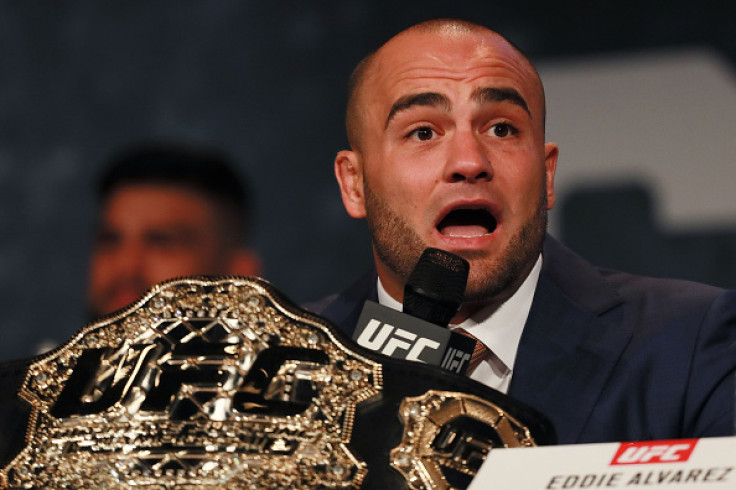 Eddie Alvarez has demanded an apology from Conor McGregor after the latter went on to claim that the American fighter's wife and kids will not be able to recognise him after their bout at UFC 205.
The 32-year-old is a current lightweight champion and will take on the Irishman, who is the featherweight champion, for the lightweight title at Madison Square Garden on 12 November. This will be the first time that the UFC main event will make its debut in New York.
Ahead of their upcoming fight, both Alvarez and McGregor have been involved in a war of words. The 29-year-old remains confident of beating Alavrez and went on to claim that the upcoming fight will be the American's last time in the Octagon.
The two fighters continued to trade barbs during the UFC 205 pre-fight press conference.
When asked if a win over McGregor would be enough at the press conference, Alvarez said: "I came for an apology from him. I want an apology for saying my wife and kids. If he doesn't apologise, then I am going to make him beg. I am going to give you a chance to apologise. You apologise to me. If you don't, then it is done."
Meanwhile, McGregor had earlier announced that there will be a huge announcement post his fight with Alvarez at UFC 205. There were reports suggesting he would retire after the main event in New York.
McGregor said he is "only warming up" when asked about the recent retirement rumours. It is not the first time he was asked about these speculations. He reacted angrily when the same question was thrown at him earlier.
He said: "You're absolutely crazy (for) even mentioning a click bait crowd like that. I don't know whether you can take time off with this life. I just stay working, stay creating history. Ya know, stay changing the game. That's what I've been doing since day one."